Tuesday, December 26, 2006

[currently feeling: tired]
[currently playing: cranberries - animal instinct]
Opps.. its past 12am! but still hope everyone have enjoyed ur christmas!!!
hehe.. I have recieved a few christmas pressie this yr~one of it is so cute!!! here it is..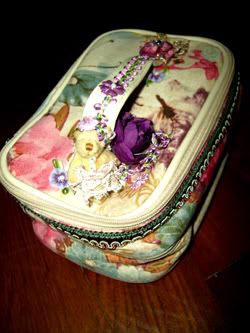 The others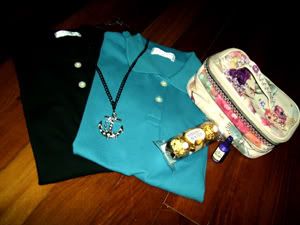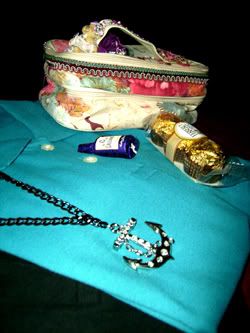 The achor necklace is i bought myself as a pressie de! haha.. nice?
recently really liked chuncky necklace man. feel like buying so many! but.. waste of money leh.
Hai yoo.. ~anyway 25th dec seems like any other normal day.. went to work as usual. seen many silly n stupid ppl as usual. n there jus aint any christmas mood ~so sian..
haiz.. dunno wat to type liao.. guess i go sleep le. haha..
Sign off wif my fatty bom face.. ciao~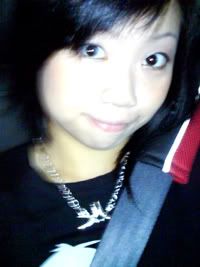 we had everything
12:13 AM
Saturday, December 16, 2006

[currently feeling: Tired]
[currently playing: Calabria - Enur Feat Natasja]
Came back from Loreal Party which is held at Club Momo about 1 hr ago. dunno y, feel so tired when i dint even dance, n only drank a glass of Vodka Ribena.. i think im getting old. Sighs.
Anyway got a box of cake and cookies as e door gift. so nice ~ n e buffet at e party was so yummy!!! =p everyone was so fasionably dressed, while i feel like i dressed like a big fat clown. Lucky i dint follow my first intention and wore my t shirt wif jeans there.. if not i think i muz b e only odd one out man!! though not really impressive, but i guess at least presentable a least bit. hehe.
Dint really mixed wif the other shu gals.. as most of them already have their own gang and my buddy kacey was late "again" thus resulting me being alone in e middle of nowhere. haha. but nvm.. still, i managed to take a few pictures wif some peeps whom im closer wif. hehe...
Claire, me and Teresa~ 2 sexy babes beside me~~ hehee
Stephanie, Kacey and me tryin to act stupid. haha
Me n Kacey acting sweet ~ WAHAHHAA
"Nice Angle Chio Bu shot" as what Kacey has praised about her own work. LOL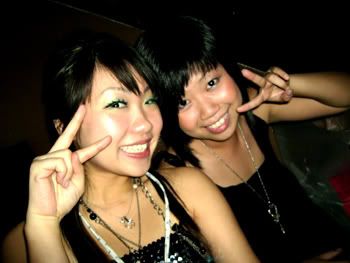 Me n Louise~ My Da Jie in Bugis. ~ =p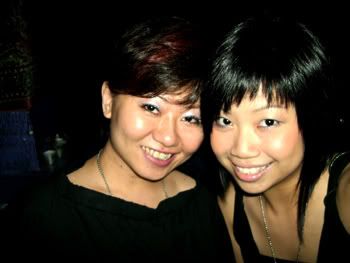 Me n Sophia, a very detailed and experienced Makeup artist~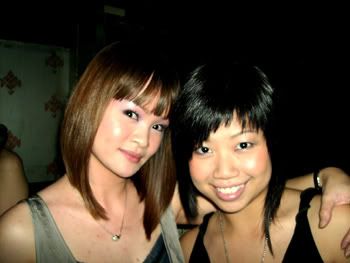 Me n Teresa.. "trying" to act sexy.. but i think my mouth looks abit cramp. haha.. Sexy is not my cup of tea i guess.. haha should continue my act cute. LOL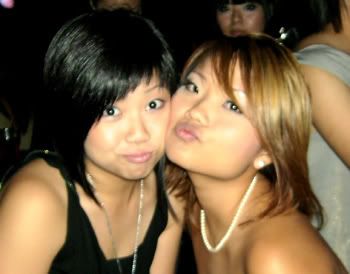 Lastly, lets congrats Kacey for winnin the "Best employee of the year" in loreal.. *claps... *claps..
WAHAHHAA.. it was a joke la!! LOL.. its an award for the SHU TEAM for best mechandising if im not wrong. n everyone were taking this taking pics as if its e star awards!!! haha.. star awards fever not over yet man.. haha
Hmm enough of my crap entry~~~ Ciao~ =p
we had everything
12:16 AM
Thursday, December 14, 2006

[currently feeling: tired]
[currently playing: Irwansyah - My heart]
yawns.. shag.. went to the Jc models event jus now wif e TSMU girls at DXO.. No pay.. simply jus help out.. stupid school, alwaes use us to advertise free for them. sian. we do, but e credits go to the school! GRRRR.. haiz.. but nvm. overall comments for the show today is GOOD!!!!. hehe.. getting more n more satisfied with all our work. =p wahahha.. e show today is so much better compared to the other previous shows that i have went. *thumbs up~
Hmmm.. nothing much to describe cos basically, as usual most of the time we are all so busy wif doing their makeup and hair.. that we dun even have time to have our dinner.. munchin all e rubbish after i reached home. Sighs. my face is becoming rounder n rounder. =x will it explode? haha..
This is my fav model of the day~i think she had filmed in some advertisement before.. one that i rem is e silicon bra ad? haha.. but nonethless, shes geogeous and has a very nice personality..
Some of my work..though not very clear.. haha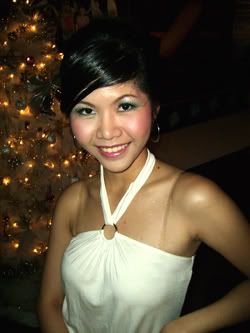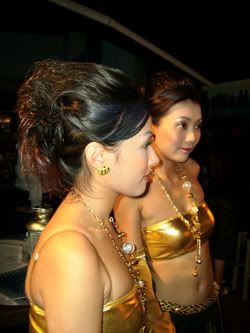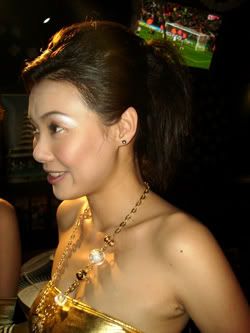 The JC models team.. aka "the golden girls" i wonder wats wif the name man. haha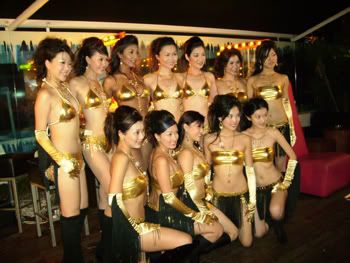 And then.. as usual.. e MUA havin fun. haha
First.. the professional and satisfying look Della Da jie. ~Look at her "so contented wif her work" look. hehe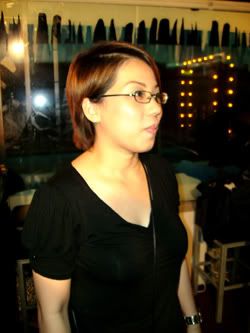 Then, the abit Ya ya papaya Mary... hehe...i think shes gonna kill me for this pic =x
But.. I DUN CARE!!! cos i find it nice! stylo mua pattern ok!!! dun play play!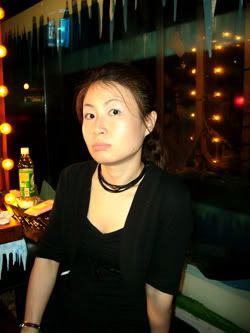 Hmm, the very very brave mummy to be JUDY!!! she really scare me when she climb up e chair to do the model's hair man!!! haha.. look at her satisfying look~~ plus e messy hair!! can see she go all e way out man! *claps~~~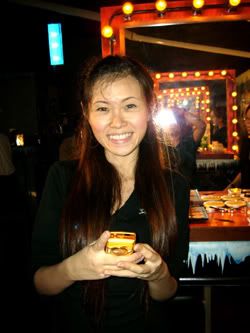 Group Shots time.......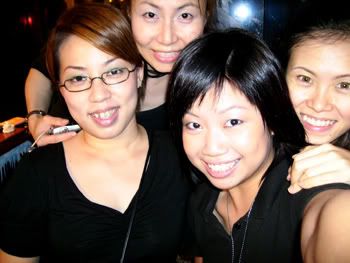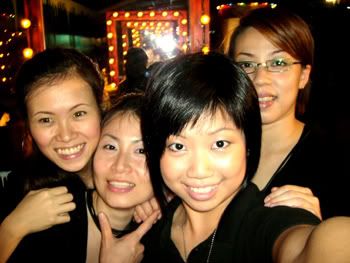 Dunno where that Mary lookin at leh.. haha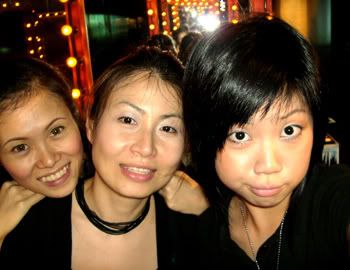 This mummy to be eyes so big n round!! haha..
sian liao.. ask sumone to take better... haha e best shot !!!!!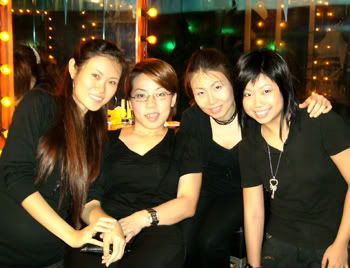 Im so happy to work wif the TSMU girls!! they r e best!!!!!!!!!!!!!!!!!
Ok thats about all.. hehe.. Time to rest liao le!!!!! =p
Ciao~~~~~
we had everything
1:53 AM
Thursday, December 07, 2006

[currently feeling: sad]
haiz.. i failed my eyebrow trimmin test. =( saddened.. its so diff from e normal way i used to do.. cos have to follow Shu's style. haiz. posture muz b good, movements muz b graceful, brows muz be detailed. today learn, today test... HOW TO PASS LIKE THAT?
haiz.. i m bit disappointed with myself. . mayb like my fren say, i expect too much from myself.. sumtimes making me feel so stress up.. haiz.. SIAN AH!!!
Anyway went to celebrate Kacey's bd wif her hubby and family after e training.. feel so extra.. but they are all really nice and friendly ppl.. treat me eat alot of yummy food especially the crab noodles..haha..its at ghim moh..and that place is famous for their crab stufss.. haha..see their family so sweet, feel bit envy..
her hubby and her oso so sweet.. so nice.....
Recently im back wif the depressed mood.~ HOW? Shit man... haiz..
I hope i can jus get better..
Anyway, anybody free to be my eyebrow plucking guinea piggy gif me a msg ~ haha.. i think i need lots of practice.. i wan to pass e test!!!!!!!!! grrrrrrrrrrrrrr
we had everything
11:48 PM