Wednesday, November 29, 2006

[currently feeling: sick]
[currently playing: HowL-Aeng Mu Sae]
Yesterday night was a bad night for me.. my fever rise from 38.1 to 38.6..
i couldnt think of anything, my head was so heavy and my eyes jus couldnt be kept opened. haha..
Previous night already having slight fever but went down e next day so i proceed to work, as it was my colleague's off day. dun wish to ask him back cos i dun feel a little well.. in e end i nearly bongus at work. haha.. Very giddy, n no mood to serve customers, colleagues say that my face was pale.. but.. i told myself no matter wat muz hang on till store closing which is 10pm (-_-) So sianz.. finally after store close, i wanna take a cab n go see doc le.. but.. there was not even one! e taxi queue was full until cannot full.. e cabs on e roads were all on call, i called for taxi n e operator was alwaes engaged! how scary can that be!! sporeans r so damn rich...!
In the end, no choice, i took e bus.. waited for so damn long.. and i was really feeling very very groggy, finally it came.. i went up n hav a short nap~ nearly missed my stop man! lucky woke up in time.. so i walked to the 24hr clinic at bangkit cos it was already 1130pm then..after that wanna take cab home, but.. no cab again! sighs.. in e end have to drag my feet to e bangkit lrt station!! wonder y i so shuey. sighs...
Haiz.. enough of my complain entry. haha..
some updates about e previous day.. went to help my bro's frends do makeup and hairstyling for their AES DND...below r e pictures.. hehe
my bro actually told me he got help me take pics of them so that i can host it up in the net , in e end when i saw e pics, every pic got him!!! i dun need his face in wat.. *faintz* that vain guy.. haha..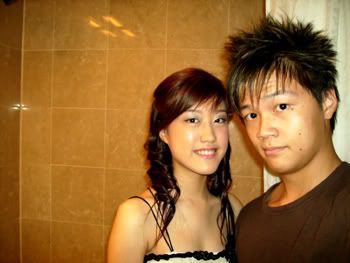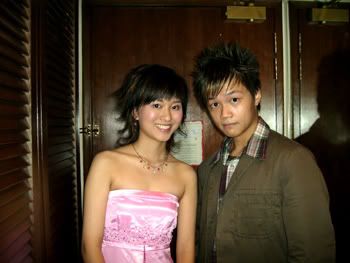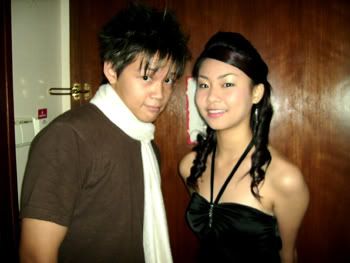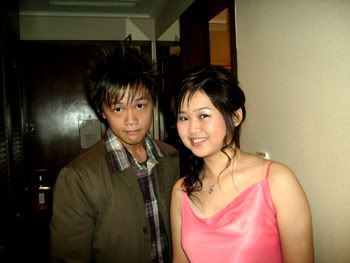 The before pic of 3 of e girls.. got diff anot?? =)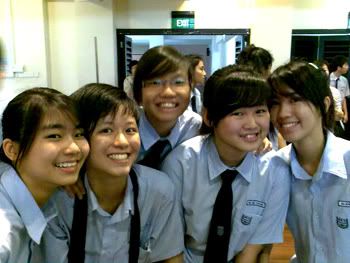 Ok le.. gtg liao.. ~~~~~ciao!
we had everything
1:52 PM
Sunday, November 26, 2006

[currently feeling: sick]
[currenly playing: Li Sheng Jie - Ni Na Me Ai Ta]
my tummy has been feeling kinda wierd since yesterday. sighs. having diarrhoeas, feel like vomiting, n having occasional headaches. dunno is it, e fishy smell sandwich i ate at e dnd event yesterday~ Grr.. all blame myself..too glutton and too hungry, that i dint really notice, whether is e bread spolied! haiz. too late........
nvm.. anyway went for ABN Amro bank dnd event yesterday wif della, judy and mary .. we did their makeup and hair! hehe.. judy n mary handle the makeup. while me n della handle their hair. its so tedious doing up 25 ladies!!! especially 90% wif super long n thick hair!! grr.. plus some aunties still thinkin they were in salon asking for diff hair styles! haha.. "hello..u r in a perfomance, so everyone has to be standardised!"
But nevetheless, its a great time having to work wif the girls again!!! n i think they all have done such a great job!!! thumbs up girls!! hehe..i missed those times working wif them.. hehe..though tiring, but i guess its worth it!!! hehe..
Gonna help out in my bro's dnd this coming mon.. hope everything will turn out good!!!!
Work has been tiring.. sales has been bad.. dunno is it i have been slacking.. or i have been simply too lazy.. or is it cos im not feeling very well these day??? Dunno la.. haiz.. hope next mth will be a better month man.. n it better be!!! haha
Ok.. some photos taken yesterday.. =)
me and my cousin.. the pretty "ye shang hai" lady haha~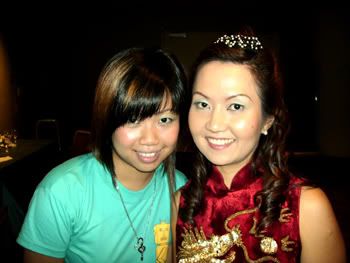 me and the ladies. their hair done by me..and makeup by judy and mary! wahahaha..
Lucky dint mess it up! haha~they r all so beautiful..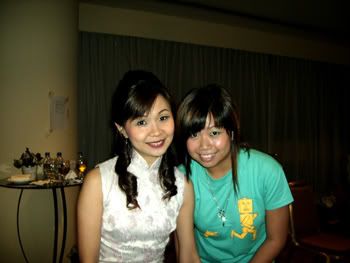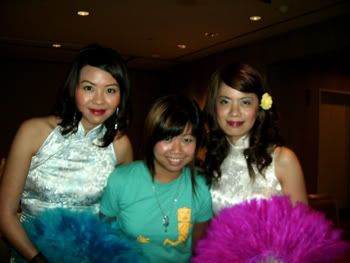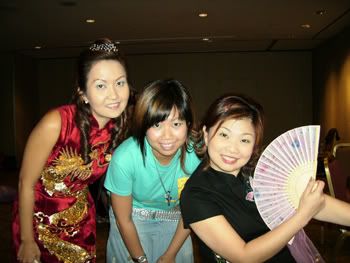 Dunno why.. but i jus find mary's fingers in a rather awkward place. haha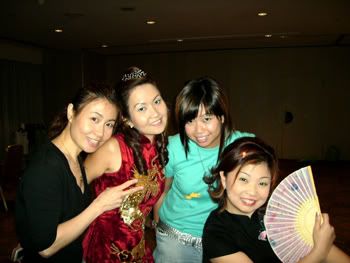 And then.. e TSMU girls.. trying to pose together..
First try...Oops!!! sorry ah della.. cut off ur head! haha~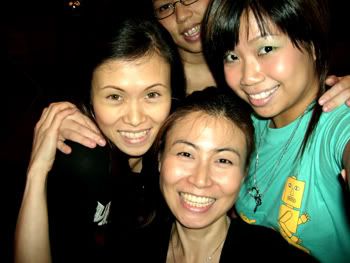 2nd one.. dunno where mary is looking. haha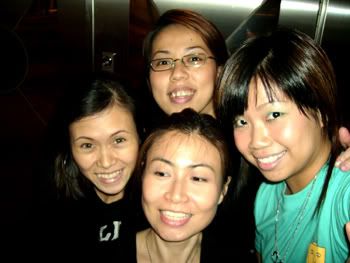 at last!!!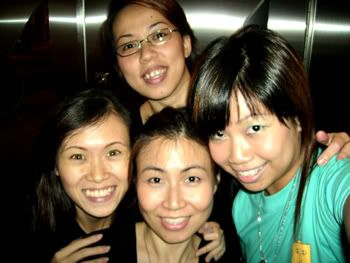 Then.. we tried again.. that della.. haha so funny.. shes sneezing loh! but look so much like ostrich head! haha =x oops~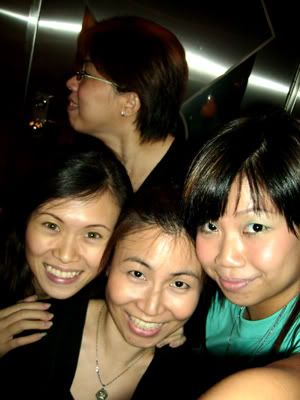 Good one!! haha~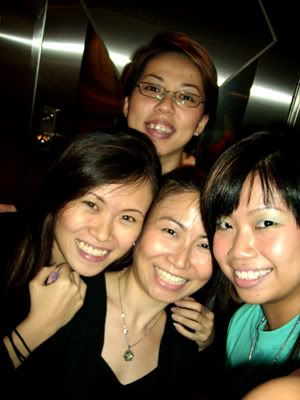 Ok.. another blog entry full of crap. Gotta go... nites peeps!!!!
we had everything
12:42 AM
Saturday, November 11, 2006

[currently feeling: puzzled]
[currently playing: Li Sheng Jie - Zui Jing]
Hey all, im back from Bkk. Its been a rather tiring trip. haha. cos have been walking alot~ but still i have so much fun shopping and eating around.. i wonder why, but i m not sick of bkk a single bit. . i simply love it there. =p anyway dint get to take much pics, cos nothing much to take actually, n im simply jus too fat to look good in any photos. Sighs.
Hmm.. ok let me update about sumthing else.. hehe
First of all, let me congratulate KACEY girl.. for her big day today!!! hehe.. finally getting married after a long run of 4 yrs wif her sweetie bf. Attended their ROM today. So touching and sweet when watching the 2 of them exchanging vows.
Love is really amazing. sometimes you feel that sumone is the one u are going spend e rest of ur life wif doesnt necessarily will be e one u r getting married wif. Long run r/s oso doesnt mean that e 2 of u will get married in the end. i have heard so many couples breaking up after 1, 3, 5 or 7 yrs. are odd nos very unlucky for couples?
When a r/s breaks down, its very impt to compromise and listen to each other in order to correct the problem. Trust is impt as well, it only takes a few min to destroy the trust, but certainly many yrs to build it back again. Comparisons is a Big "no no" in r/s as well i guess, cos it will only make the other party feel inferior ~"accept the person for who they are if u love them" how true will it be when it really comes to real life r/s?
Many of us will often want to "mould" our partner to become what we expected. or rather in a gd way, its called for the better. But is it really true that its not "mould" them to be wat we expected? Love is selfish, i guess.. it really takes lots of mutual understanding to keep the r/s going strong and stronger..so long 1 party slackens, it will collapse.~
I suddenly have so many thoughts running through my mind.
nvm. ~some pictures to end this rubbish entry! hehe
Me and e bride~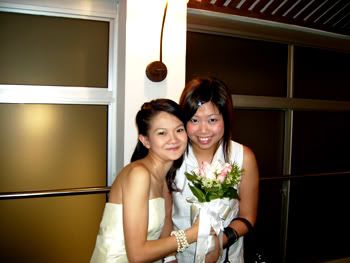 3 of us~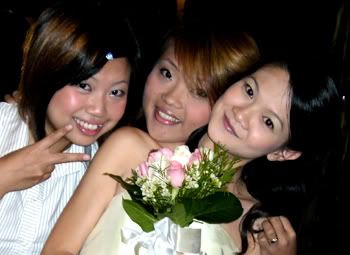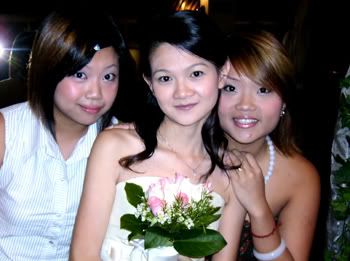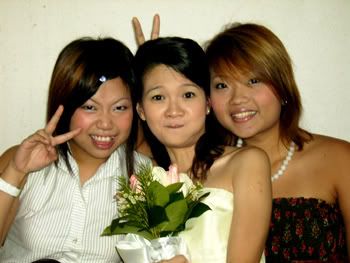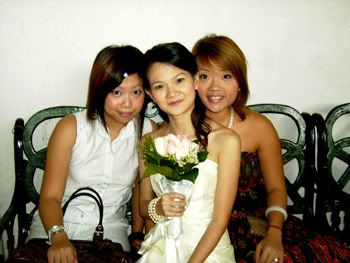 e happy couple!!! Wishing them EVERLASTINGGGGGGGGGGG LOVE!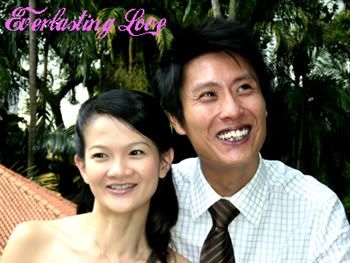 Sign off, wif my fat water melon face~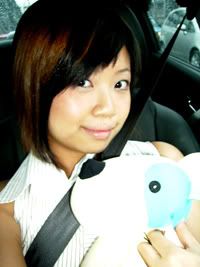 we had everything
9:31 PM
Tuesday, November 07, 2006

[currently feeling: tired]
[currently playing: Li Sheng Jie - Zui Jing]
I have been feeling rather easily frustrated recently. Haiz. i jus dunno whats wrong wif me.!! thinkin of it, i will b even more pek chek! sighS! sumthing inside me is like exploding. haiz.
Been having wierd dreams lately. dreams that brings me back to the past. its been so long ago.. 2 yrs i guess.. and i did not have e intention to think of it. but.. it jus suddenly reflects in my dreams. not 1 day! but 2! haiz. i feel pretty down.. i look through some past photos and thought of how come things turn out that bad during that time.. i really think sumthing is really wrong with me..
i feel that i have let that person down.. i regretted certain things that i have done.i miss e good old times.. but.. time couldnt be turn back anymore. i wonder how e person is doing.. but i guess i will never hear from that person again as we r like total strangers now. .
Will that person ever know i actually still think of e past?
Move On. Its sumting that i thought i have already did. but sumtimes pondered about "did i?" sighs.
Going to Bkk later on.. till im back again ...
we had everything
1:22 AM
Sunday, November 05, 2006

[currently playing: tired]
[currently playing: cranberries - animal instinct]
its been some time since i blogged.. n today, there is no pictures!!! cos my camera is spoiled!! sighs... its rdy for collection, but till now im still not free to go down and get it!!! yawns!!!
kinda have a mixed feelings now.. read something that perhaps i shouldnt have read.
why do ppl alwaes wanna insist doing something, when they know that they wont be happy after doing it? i feel so puzzled at times. wonder what is wrong wif me . haiz. i think im self blubbering again. wahaha...
recent days is still about work work work!!! Sales have been bad. n im still trying to strive for e best!!! ~ got to know a fren much better, n shes now a listener and a advicer plus a joker.. hehe~its been so long since i really chatted wif sumone.
Have been into HELLO KITTY these days haha.. bought myself a multi coloured kitty pen at $13.95!and a melody organiser at $9.95~ haha.. perhaps ppl might feel its abit ex and silly, but its really cute!!!! haha im not really crazy about these till my frens were all into it. hiak~ i think.. i fall into it too.. feels likes im back to the old childhood days.................
how i miss e old times sometimes.. but time has passed, everyone had moved on.. i "feel" that i have already move on.. but why do i have some wierd feelings at times?????
How i wish i could noe........
we had everything
12:23 AM