Thursday, September 21, 2006

[currently feeling: tired]
[currently playing: Lost Prophets - rooftops]
My dark eye circles is getting bad!! oh gosh.. i have not been sleeping well these days.. and my life is only work work work. wahahaha.
Working life..though quite busy.. but i quite enjoy everything. .i kinda enjoy my job for e time being. ~ OOPS~ i jus hope things will remain gd.. =) Im scare of e re-shufflement!!! i dun wanna move out of tangs! n i hope e buddies there will stay put as well!!! sighs~ prays for e best!!!
Anyway learn alot of things for e passed half a mth.. job is rather fun. perhaps mayb i enjoy talking to ppl~ can talk, share my knowledge.. i think its rather self satisfying!~ =p
But... theres a major change in my life! i believe frens who saw me had a gd shock! wahahhaa~ i have chop off my long hair on 18/09/06!!!! went to Chapter 2 to have my hair cut~~~~~~ n its no joke thats its short wor.. cos its really really damn short!!!
Hehee.. my hair stylist is rather creative.. and gd skills at e age of 21! cool eh.. his name is Jeremy.. at chapter 2 bugis. =) hehee
To prove that im not joking.. below r e proofs......... =p
BEFORE!!!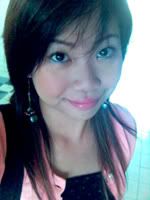 AFTER!!!!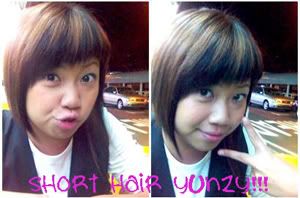 Pls dun ask me if i had any chi ji anot. haha cos i do not hav. i think i muz b crazy to cut it short. n i do admit.. i m very sad that my long hair is gone.. but.. its a new start isnt it? n i like e new style! though my face looks rounder.. sighs~ wahahhaha.. =p
A BRAND NEW START~~~~~~~~~~~~~~~~~~~~~~
Hope it will jus get better..................... ! =)
we had everything
12:46 AM
Saturday, September 02, 2006

[currently feeling: Sick]
[currently playing: Twins - Si Xing Bu Gai]

Guess wat!? im startin work next week and here i m down wif a bad bad cough n flu!!!!! My head is so heavy. *GOSH* tell me wat to do, to recover totally before work starts!!!
So sianz . . *prays for gd health* ~
Anyway been slacking around these days. most of e time running around orchard to submit stuffs, check schedules and help out wif shu uemura's new launch ~
By the way, i will b situated at Tangs for e time being until further notice. =) Hope i will b able to keep up wif their pace. ~Tangs is a busy busy counter. haha.~
Nothing exciting about my daily activities for now. haa..
PS: *wish judy n eve gd luck for the makeup store interview! hehe.!
Update soon ~ Ciao~
we had everything
4:46 PM