Saturday, August 26, 2006

[currently feeling: Tired]
[currently playing: F.I.R - Tian Tian Ye Ye]
Beware! this entry is gonna b a very long entry wif a whole load of pictures! You might have to wait for e pics to load. =p hahaha.
Been pretty busy wif gatherings this week. Cos my "Lao Da" Adrich going back to malaysia and perhaps not comin back unless for short holidays~cos he said he wanna find job n settle down over there.~ sighs~ Hes a hairstylist~very hardworkin and helpful guy.Has helped me alot during our makeup courses.~ alwaes very willing to share what he noes. ~ and let me bully~ =x Oops~ haha. Hope he will do well over there. ~
A pic of him!!! ("GE SHEN" OK!) LOL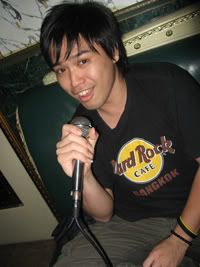 Hehe e first KTV get together...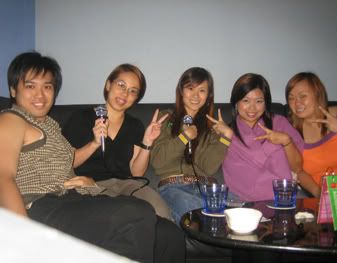 Eve!!! y ur eyes close!!!~?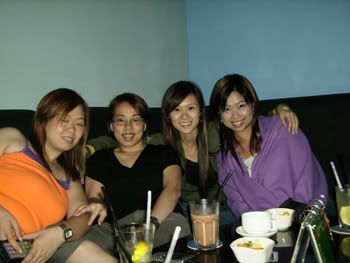 Then.. e steamboat session at Della's house!! hehe it was nice eating together like this.. hehe.. but.. we were all sweating like pigs then as e weather this days r really humid n hot!!! Did anyone feel it? or is it jus me???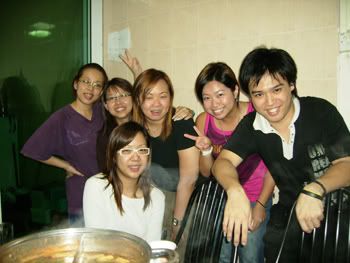 I think Lao da aspire to be a cow????wahahhaa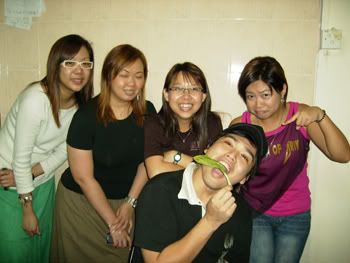 E last gathering wif lao da was on wednesday.. e day before he went back to malaysia..
went over to meet e bunch after my production shoot, was feeling rather tired then as e shoot starts at 8am that day..and it was at SAF Yacht Club. Near Changi Naval Base.! damn.. so ulu n far. haha even e taxi uncle oso not too sure where to head..
Some pics...Haha.. more of monkey faces shot..y? COS ITS SO FUN! i love monkey shots!!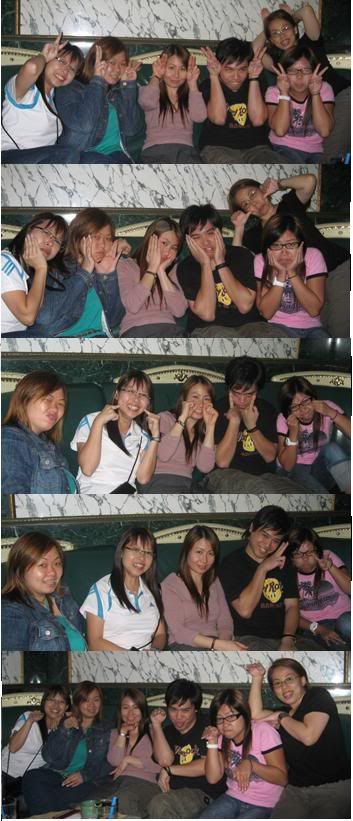 Hmm also, i went KL bout 2 weeks back. jus a few days stay only.. wif Della my kaki..to visit her cousins. . hehe..Went over to many places to eat eat eat!!! wahhaa..i noe i shouldnt eat so much liao.. but.. its really too tempting! especially wif that ah sum.. who keep on askin me to eat! HAHAHA
A View from where we were staying. SO MANY TERRACE HOUSES!!! haha their "HDB" houses over there. =p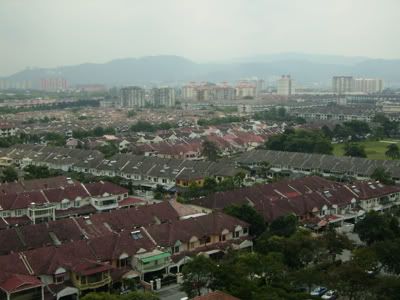 Her cousin's kids..
SO CUTE!!!!!!!! i still miss them till now.. sighs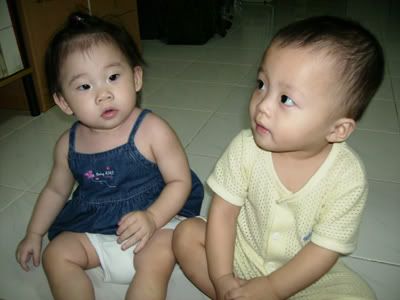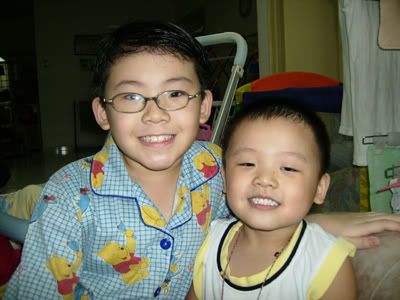 Fighting for a plastic bowl?? wahahha.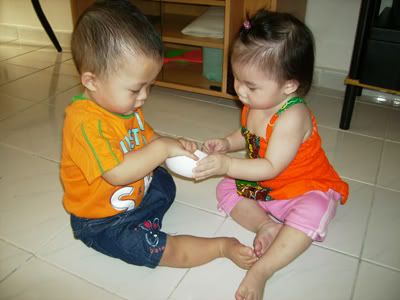 Me trying to act cute beside him. But failed terribly!!!!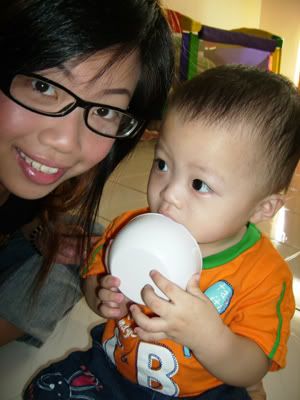 Some pics of the places we went...
The Twin Towers!!! Wif Della e ah jie...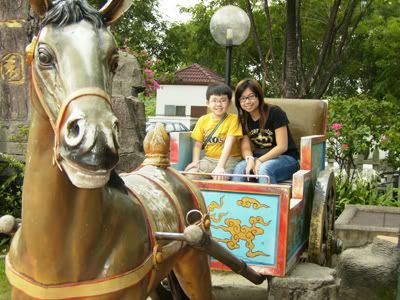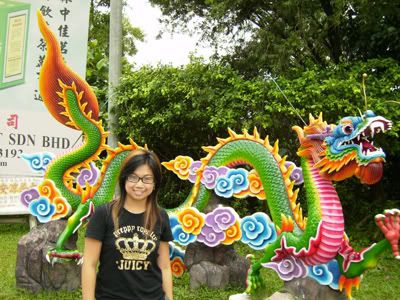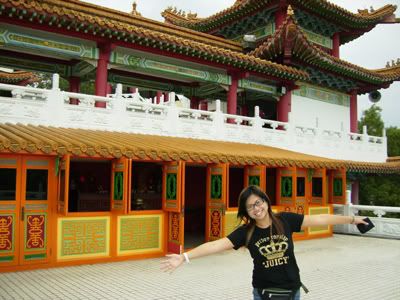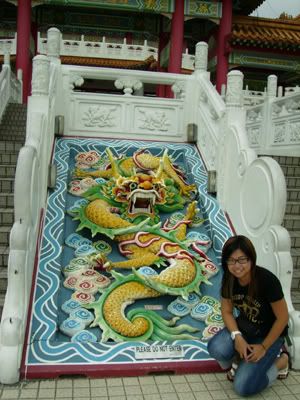 Ok im done wif my entry!!! This is e result of not blogging frequently. LOL..
Also, i have got my certificate from The School Of Makeup le.!!!Very happy that i have got a credit!! Too bad few more pts can get honours wor. haha sounds funny right.
We have a few gradings, that is Honours, Credits, Pass, Pls See Tutor (this refers to fail but not very nice to write fail, they wrote this. ~)
By the way, i have made a webbie specially dedicated to my makeup work under e links *MAKEUP~ hehe wif the help of my buddy wanlin. thx girl!!!!
Ok Thats about all.. i guess.. hehe.. will be starting work in Shu Uemura from Sep onwards!!! anyone wanna buy their products find me ok? LOL
Ciao~~~~~~~~~~~~~~~~~
we had everything
12:42 PM
Thursday, August 10, 2006

[currently feeling: tired]
[currently playing: Kelly Clarkson - Because of you]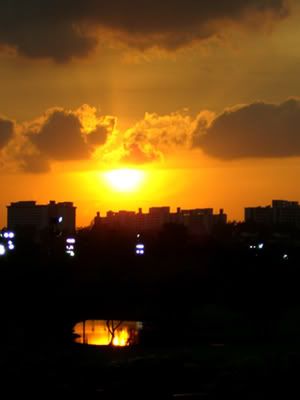 A nice scene after a day of hardwork..
Been busy these days.. had a production shoot at Jurong Country Club.
Starts as early as 730am~ been so long since i woke up so early. wahaha.
Hot is wat i can describe. My skin is so "healthy" now with tan skin..nearly die of dehydration . LOL.
Yawns. tired. but i guess i rather enjoy this kinda busy life. haha. no more shoots. continue workin at shu uemura? hmm...
whats next?
Thinkin..............................................................
we had everything
12:39 AM
Monday, August 07, 2006

[currently feeling: Tired]
[currently playing: Xiang Ai Wu Meng]
Its been a rather tiring day. mayb cos of e lack of sleep these days. yawns.~
Went for a steamboat session wif sum of my gd buddies in TSMU after pract exam yesterday~ had so much fun eating and joking around. . will really miss them after we graduate. sighs~~~
Anyway a big big thanks to WENY aka Liwen who was my model for my exam yesterday. ~She looked so tired when i met her in e mornin. Poor her dint have enough sleep these days too and she actually have some assgns which she needa rush ~ feel bad askin her to be my model..but 2 bad i couldnt find any models to help me ..really appreciate it.. =)
Anyway e day and night makeup. hehe.. luckily everything turns out fine and went on smoothly..hehe..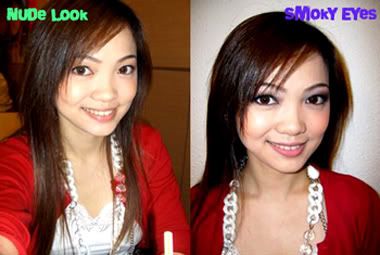 Me and my model~~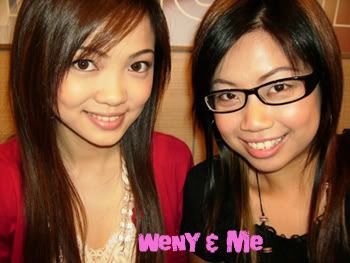 Gonna wait for 19th aug for my results. .. yawns..
anyway.. time to sleep. needa wake up at 6am later ~ MUA for photoshoot! hope everything turns out fine too!!!!!
ciao!~
we had everything
12:28 AM