Monday, July 24, 2006

[currently feeling: refreshed]
[currently playing: shaggy feat - wild 2nite]
Hmm.. its been a pretty busy n tiring for e past week, cos was busy doing my thesis n studying for my theory exam~ n now its finally over! WHOOOOOHOOO~! now e final stress is e pract test which is on 5th aug!!! Hope i can pass wif flying colours! LOL
Anyway, went to Zouk yesterday for e monsoon hair show.. it was a very impressive show. got many mediacorp artist present and Addy lee was very steady n cool when cutting hair. LOL. but hmm too bad there was a small accident.. if not.. i guess i would gif this show a 100/100!!! sighs. n e accident was actually a very scary one.
Guess wat.. they had this section wherby theres 5 stylist, doin a on e spot hair cuttin demo. n.. after e cut, e models were supposed to parade round e stage, there was this particular model, wif one bunch of hair sticked together. All of us were like thinkin, how come spray so much hair spray.. or is it water spray? hai yoo!! so ugly.. but.. after a closer look~ we saw sumthing drippin from e hair..guess wat??it was actually blood!!! imagine e bunch of hair soak wif blood dripping!! how gross!!!
*SCARE~* i think e stylist accidentally cut e model, duhs!! so much blood! everyone was damn shock!~but e model was so professional that she finished e whole show.~i m really impressed by her professionalism.~ sighs. hope her head is getting better...
Anywa after that, went to "why not" (gay's pub) haha wif my frens~~ it was a eye openin for me, cos i never been to a gay pub b4!! LOL. although, some scene abit.. hmm.. but overal its fun!! HAHA!!! ~too bad i drink abit i seh seh liao. if not, i think i would hav enjoyed better! WHAHHAA~
And then.. today.. went out wif e sjab buds to celebrate Qi's bd~ hehe..
FUN!!!! some pics of the day........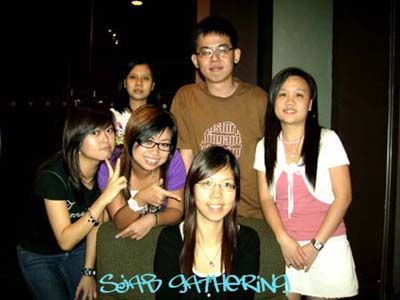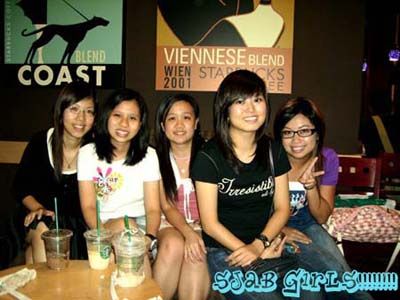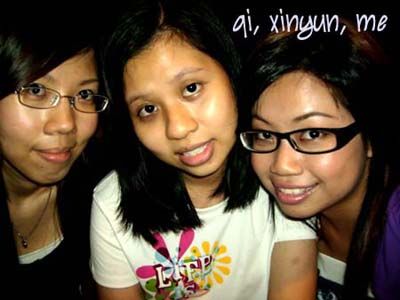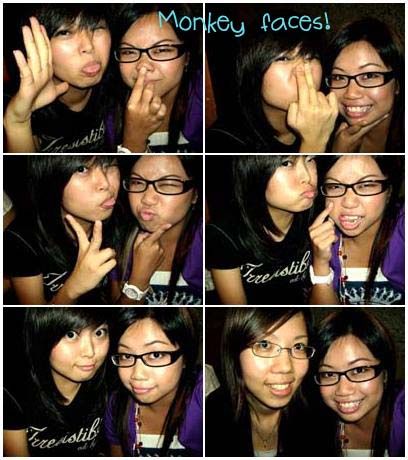 hehe thats all! a pretty long entry~ WHAHAHHA! NITEZZZZZZZZZZZ
we had everything
12:48 AM
Wednesday, July 19, 2006

[currently feeling: tired]
[currently playing: Boa - Waiting]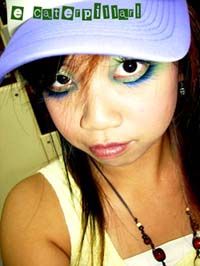 this is a caterpilla look done by my fren yesterday! haha~ so mao mao cong feelin right? anyway, its a requirement stated in e thesis. that is 9 normal makeovers n 1 creative 1. so this is e one!
Hmm mine is over here... thought bit simple.. but... i m really so brain dead that i cant think of anithing better! sighs!
he looks so sweet isnt he? haha.. very sporting guy loh.. watever image oso ok wif him de.. thus.. i use him for this creative look~ wahhaha
Anyway been pretty busy wif thesis lately.. slept round 4am for this past few days.. =( gotta pass up this sat!!! sighs. still got a whole lot more to go.. wat makes it worst is e theory exam oso on this sat!!!
SIGHS! ..
*stress* *stress*
Guess i shall go work on it liao! haha ciao!!!!!!!!!!
we had everything
3:31 PM
Sunday, July 09, 2006

[currently feeling: Tired]
[currently playing: Young Jeezy - Soul Survivor]
The weather is extremely horrible these days! e humid environment.. e stuffy air..
Oh gosh.. dun anione jus feel like going crazy??
I think i almost did man. jus cant stand this kinda weather to e max~ i hate humidity !!! ~ Shrugs...
Anyway~It has been a very hectic n busy day today!! Met bee at 7am n headed off to school for my portfolio session~ so damn busy for e whole day. 6 looks to finish.. Oh gosh~ i thought i m jus gonna faint anytime.. haha..by e time i finished e 2nd look, it was already about 1.30pm! ~ *stress man! been not feelin very well today. thus sum way or rather it did affect me a little.. my whole head was so heavy by mid day..n i guess perhaps its cos of e inadequate sleep.. n lethargic body that i hav these days. Sighs~ but gratefully, e portfolio thingy is over! im so excited to see e photos!!!!!! =p Hiak~
Anyway some pics taken by me!! hehe... (Bee, my pretty model for e day) Really appreciate her sacrificing her whole day jus for my portfolio! &hugs&!~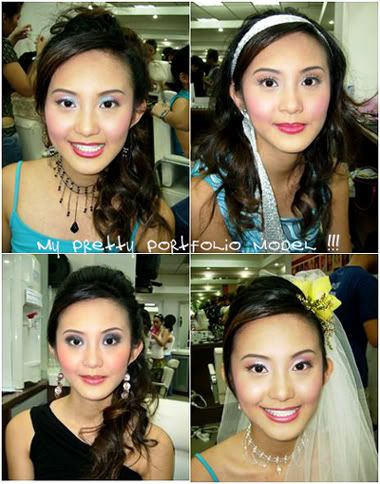 Some photos taken by me yesterday at e korea fair. Haha.. No customers n im playing around wif my colleagues. actin ma chiam im e photographer. Some shots that i feel still quite alright haha! ~ any views!? share them yea? =p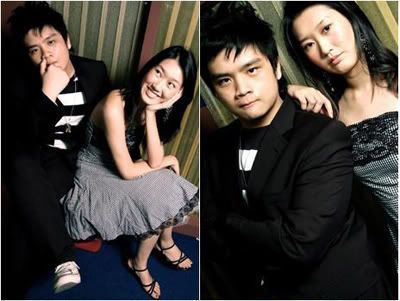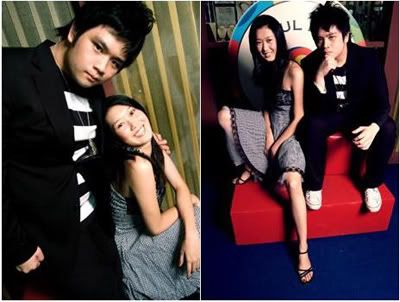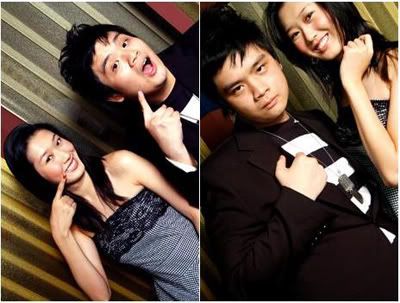 Thats all for e day!!!!!!! nitezzzzzzzz~ time to have a rest!!!!!!!!! =p~
we had everything
1:42 AM
Saturday, July 08, 2006

STRESS STRESS STRESSSSSSSSSSSSS!!!!!!!!!!
Gonna wake up at 6am later for my portfolio!!! STRESS!!!!!!!!!!
More pics update soon!!!!!!!!
NItez! =)
we had everything
12:50 AM
Saturday, July 01, 2006

[currently feeling: puzzled]
[currently playing: Mcfly - Jus my luck]
My newly created photo wif my new hair style! =) not very clear though~ =x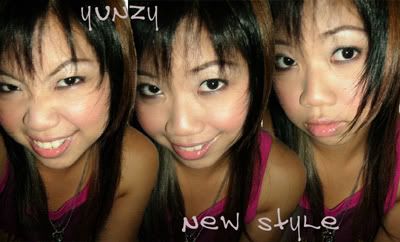 Anyone watched e movie "Just my luck" ? its actually a pretty nice movie.~ the above song that i mentioned is a song from this movie. Mcfly sings pretty nice songs. ~
Try them if u haben heard b4 eh. =)
"White Lies" .. what does this means actually? wats e diff wif adding a "white" to "Lies"? Lies r lies.. no matter its white or black, its still a lie.. isnt it?
I strongly believe once u have lied to somebody b4, b it white lie or jus a lie.. e person might not even believe wat u say forever. . Do ppl really say white lie cos they wan to make e person feel better? But dont they noe that they might make e person feel even more worst if the person were to find out herself/himself?
Sighs.. which is real? which is fake? sumtimes its jus so diff to differentiate..
Why do some girls like to be very extremely close to a guy when they actually know that e guy is attached? r they tryin to gain attention? gain love? or wat? i jus dont understand y they like to act so pathetic to make guys fall for them. .If e guy really were to gif up or betray e girl cos of tis pathetic creature, r they really gonna last? can u cfm that she wont go around catchin other guys attention when shes wif u?? hmmmmmmmmmm
So many why in my head .. puzzlez that i cant solve.. sighs..
To believe or not??? I dunno... but i guess whats e past should jus let it remain e past isnt it?
What a crappy entry... =x
My pet..hiak~
we had everything
11:00 PM