Wednesday, June 21, 2006

[currently feeling: tired]
[currently playing: Rihanna - If its loving that you want]
Yawns.. so sleepy.. slept in e bus jus now n nearly knock on a woman's shoulder. Damn pai sey. LOL. i jus wonder y i can sleep better in buses rather than in bed! wierd.. so wierd!
Anyway,been busy wif thesis makeovers, work n assignments recently..jus attended e miss spore world preview held at east pt last week.. alot of cock ups durin e first day, so dint managed to help anione makeup. only durin e 2nd day, then managed to do 2. hehe never expected to see my fren there. haha F1, gayle tan. ~ my ex colleague. haha.~e world is so small man........
What to do next after grad? continue workin at e makeover studio?makeup counters?find other jobs?or? hmmm.. still wondering...... nvm i guess finish my thesis first ba!
Gonna have my portfolio taken on 8th july.. even more stress!!!!! DUHZ!~
Anyway.. sum makeover pics i have done... stress stress stress man.. e dateline gettin closer.. n i hav yet to finish anithing.. OH GOSH! how......
I would like to say a big thank you to my 3 models who have came to b my guinea pigs~ hehe.First was qiqi.. haha wasted so much of her time jus to do one look.~so poor thing.. =( haha but lucky she likes e effect. LOL. thx bud!
n though emily was sick, she still came~ so touch.. hehe..she keeps dozing off when im doin makeup on her. haha..so cute loh~ OOPS =x hehe.. lucky never drool hor. hiak ;)~
lastly.. sylvia who actually stayed till 7pm++ cos i cant get e looks correct! sighs. so sweet of her hor. even though stay till so late, she still keep on smiling! haha.. thx girls!!!!!!!! *muacks!
My 3 very pretty models..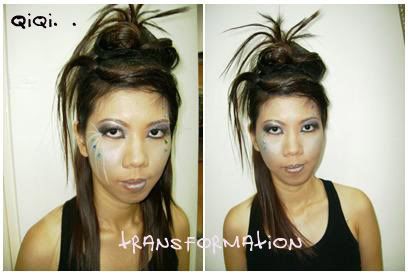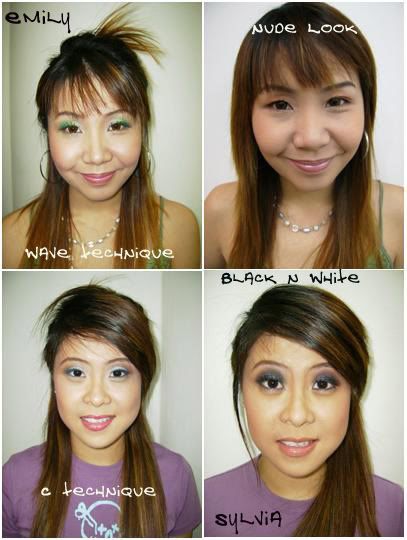 Me & my models.........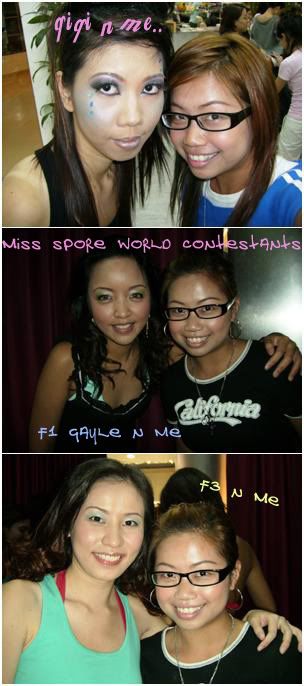 ok thats about all.. gotta ciao~ tmr got work....... yawns!
Nitez!!!!
we had everything
11:00 PM
Saturday, June 10, 2006

[currently feeling: Tired]
[currently playing: Zhang Hui Mei - Ren Zhi]
its been some time since i last blogged. very bad at blogging recently. wonder wat should i tok about leh? hmm.. let me think. . .
Anyway first of all, let me thanks all e frens who has wishes me happy bd~ hehe. cant replied as i was in tioman on e 6th june. =p but i really appreciate all e wishes. hehe.. =)though bit disppointed not to recieve some ppl's sms. but nvm..
ok.. i have jus came back from tioman yesterdae. its a birthday pressie sponsored by shah shah. hehe. had a fun time playing n slacking around there. its actually a very small island surrounded by beautiful scenery .. nice sea.. nothing much to do over there except b wif e nature. hehe. went snorkelling, jungle trekking, eat, sleep, hmm i guess thats about all e activities. haha. but frankly speaking, its really a very nice place to get away from stress. haha. e ppl there r extremely friendly and everyone is jus like a big big family..makes me think of e olden times kampong days. Basically its really a nice trip. hehe.. a pic of tioman n me!
The wind is really stong..trust me..nothing beats havin e natural wind! =)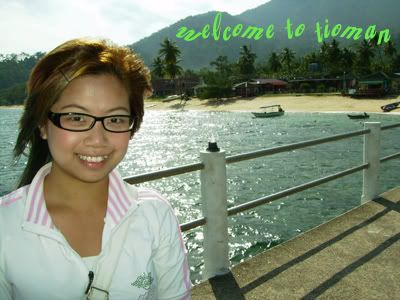 Had 2 mini bd celebration on 5th june, b4 i went to tioman. Family celebration, cake sponsored by my mummy! hehe also, wif my tsmu girls. hehe so sweet of them to rem my bd n bought me 3 kinds of cakes, hehe a fruit sponge cake, choco fudge cake, n a mini choco muffin. hehe~
Oh Gosh, i looked damn haggard..........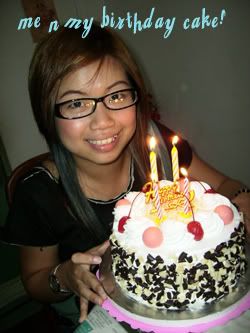 Hmm on e 4th june, my best buddies gave me a very wonderful bd celebration! hehe.. very glad that all of them actually squeeze out some time for my bd celebration. ~thx buds!!!anyway went to sentosa for e luge n sky ride. hehe. bee was so afraid of e sky ride n ended up grabbing me n qi so titely. LOL. =x oops.. im not supposed to laugh at her. haha. so bad hor me.. after e rides, we went to slack at e siloso beach.. some random pics. hehe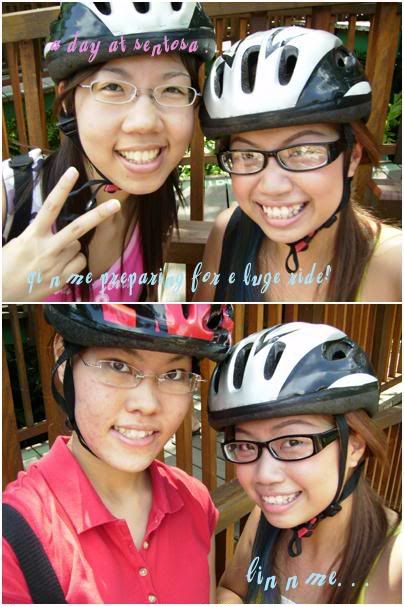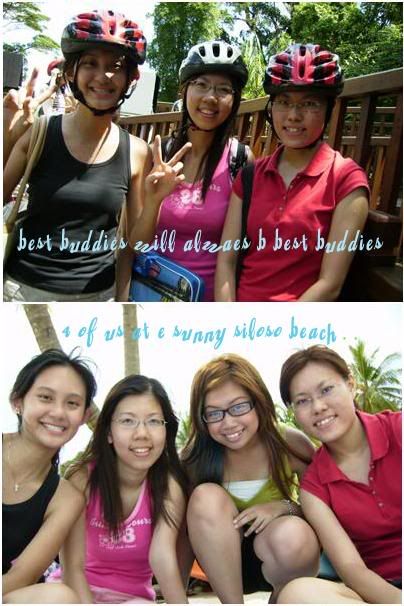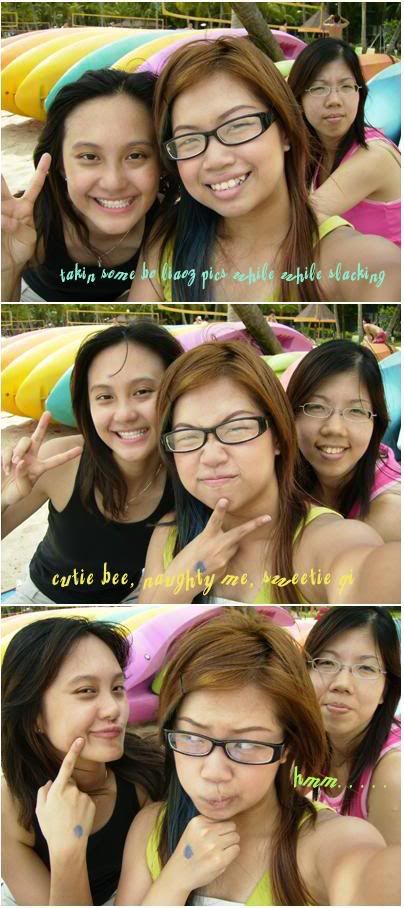 We were all so famished after all e activities at sentosa. n lin n bee was like half dead at about 5pm+ haha. so we went to eat at e harbour front market.. n after that we proceed to apollo KTV! hiak~ went there n had to wait for our room for bout 45 min!!cos theres some prob wif e previous slot n their time was extended. Hmm.. nvm.. shall forgive them cos e boss was so sweet to give us money to play pool n photohunt. n a complimentary drink n free upgrade of room !haha. gd service recovery eh!? =)
Hmm.. next update shall b some activities that happened last week..
Pics of me n my model for e tony n guys hair show.. hehe..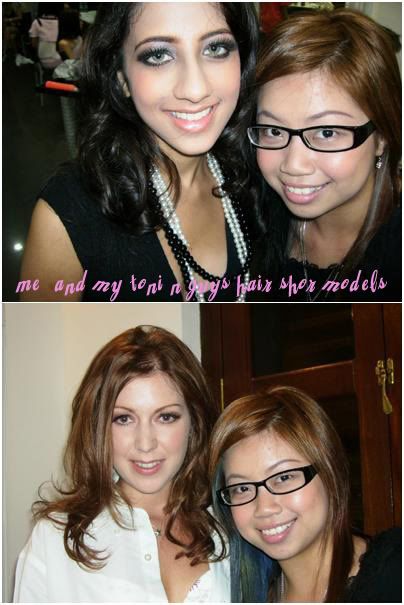 Pics of e tsmu girls at partyworld ktv!! hehe.. had fun singing wif the girls..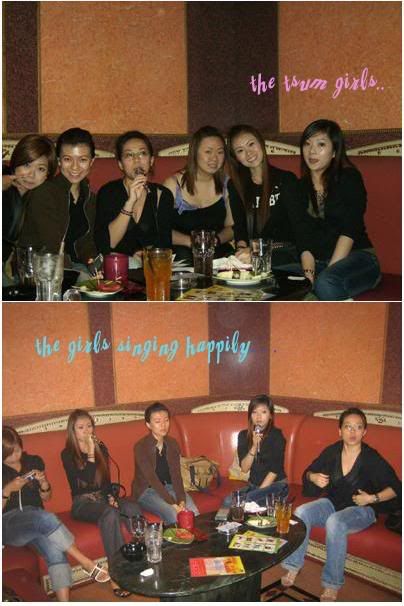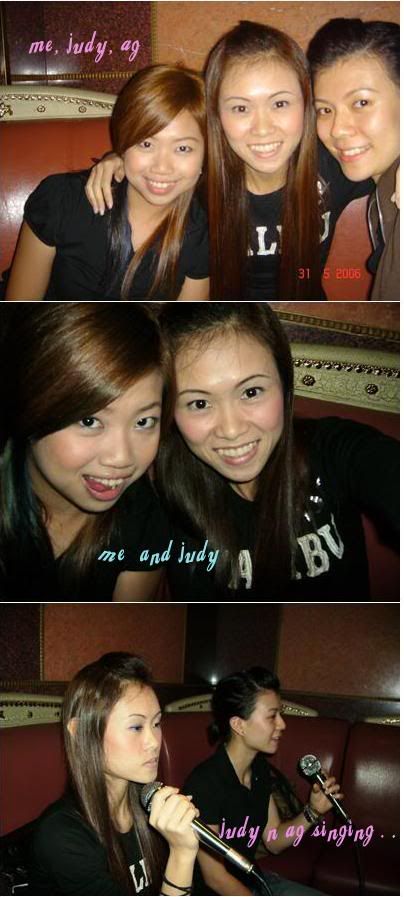 Ok i guess thats about all..
An entry full of pics again. Haha. picture blogging. .
we had everything
6:42 PM