Sunday, April 30, 2006

[currently feeling: Tired]
[currently playing: Cascada - Never Ending Dream]
Theres so much to update but i dunno where to start. haha..
Hmm ok.. think i will start from e first assignment i went ~ "The Hottest Babe" competition which was held at Thumper pub on wed.. =) its really a fun n excitin experience. haha cos i was able to see e hectic n busy side of backstage. LOL. 1 word to describe "shiok" LOL.. plus able to see sexy babes in bikinis running around.. LOL. damn tiko hor. LOL. anyway.. below r some pics from e event.. =)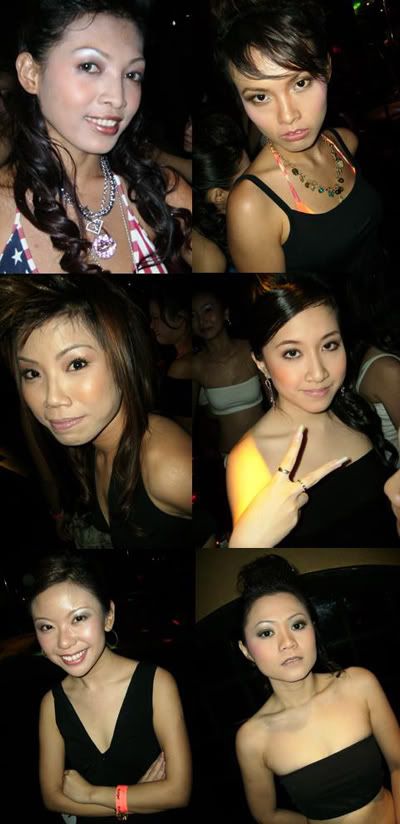 Some of e models... =)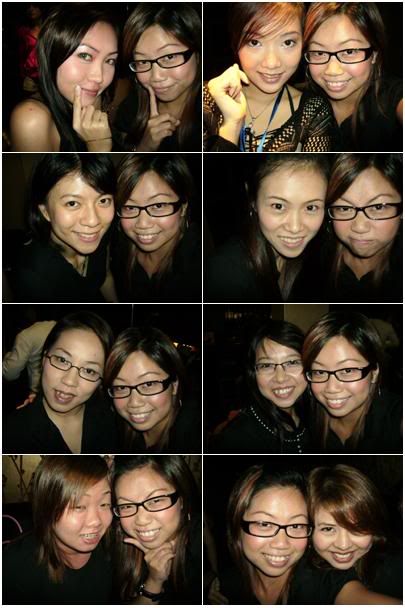 While waiting for e event to start.. e makeup artists self entertaining. LOL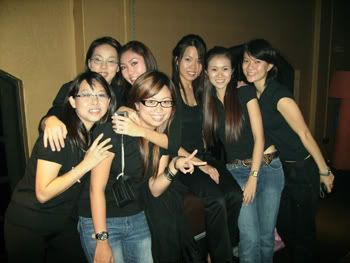 Had hairstyling lesson on fri. My teacher used my hair to demo a simple ROM style. haha.. Nice???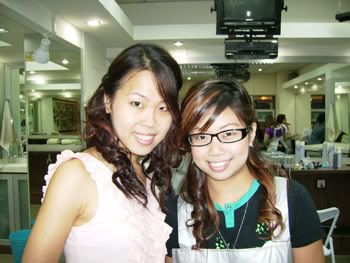 have not really done curls b4.so actually find it bit wierd on me. haha but no harm tryin a new style~ mayb i will needa try all e styles that i have learn on my myself soon. LOL.
After class went straight to a fren's bd chalet which was held at downtown east. its been a really long time since i went there. n can see theres lots of changes.~Anyway had bbq at around 6pm. but e weather was playing us out. =( cos after we started e fire, it starts to rain! so no choice, we got to move everything back in. But guess wat, after we went in, a while later e rain stops. GRRRR... n so we went out a while later n start e fire.. n then.. it starts drizzling again! DUHZ. ~sianz loh! but then dunno y.. after e guys put a grass on their ear, e rain seems to stop. LOL. i think e ppl who watches soccer will noe ba.............. =)
We bbq till around 11plus n head to KTV at loyang pt...Met a very unreasonable taxi driver. dunno e place but dun wanna tell us. drive us dunno where then ask we all wheres e place.! but as those of us in e same taxi dunno..we told him thought he should noe. but instead he replied.. "how m i suppose to noe everywhere in spore my fren" in a rather sacarstic voice.duhz~ wat e hell.. dunno then say la! act as if for wat~. wonder y taxi drivers nowadays so damn wierd loh!!!! ~Lucky we noe how to read roadsign. ask him to follow it n finally we reached! Stupid driver buey gum wan still step on e engine very hard.. makin a very BRRRROOOOOOOOMMMMMMMMMm sound b4 he left out of side. SIANZ! but nvm. still we dint let him ruin our mood.
Had fun for whole nite. dint sleep..n e next morning went home straight cos got another assignment at SCGS in e noon. Went home slept bout 4 hrs n head out again..
But lucky e event was a successful ones. e students r so cute loh!!! wif those pinky blusher n red lipstick. How cute can they b!! haha~some even so mature to comment on our colours not strong. blah blah blah, i even had a few coming back after their rehearsal asking for touch ups! haha so funny!!!!!!!!too bad no time for photos cos there was bout 79 students! n 10 MUA only.
Immediately after e event, went straight to Bugis to meet yanling n hongwen ~to proceed to Bee's 21st bd celebration at Aranda.. jus beside downtown east! LOL. reached there at bout 8pm..n slack till bout 1 plus as theres not really much ppl whom i very close wif over there..n tat stupid ming, keep takin photos.~ LOL. ma chiam wedding event like that. got to wait for him to b free first b4 i can get some of e photos taken~
Tired.. havin a headache le...
haha What a long entry.. hope it dint bored anione... ciao !
we had everything
3:22 PM
Saturday, April 22, 2006

[currently feeling: sad]
[currently playing: Jae Millz - I like that]
Having hair course continously for 2 days is not easy. Haha. So many styles to master n rem.. oh no! hope i will still b able to get it next week ~
Anyway....
Saw this mail and find it quite interesting.. Here it goes...
AS AN EMPLOYEE, ...
* the biggest motivation is salary
* the unluckiest thing is promotion without salary adjustment
* the most "shiok" thing is you don't work anyhow also get pay increment
* the greatest talent is "carry big stuff"
* the greatest mistake is to argue with your boss
* the most demoralising thing is to receive salary late
* the most pitiful thing is you did not get your salary and your boss ran away
* the most happiest thing is you become your boss' boss
* the most cleverest thing is you are late but boss doesn't know
* the stupidest thing is you publicly say that you are lazy
* the most common thing is boss says something but means another
* the most proudest thing is you sack your boss
* the most "lugi" thing is you work hard but your colleague takes the credit
* the most dangerous thing is to become a "two-headed" snake
* the biggest satisfaction - sending e-mail like this during office hours!! heheheheheheheh....
we had everything
12:08 AM
Friday, April 14, 2006

[currently feeling: Tired]
[currently playin: Greenday - Give me novacaine]
Woke up early in e morning to meet Aidah at Bedok. Its her engagement day today! haha so happy for her. Anyway, reached there bout 12pm n went to buy my fav fried tapioca from e food centre. hehe. Ate as i wait for her..So yummy! mayb cos i long time never ate le. Haha.
Went to her place after she came to picked me up n reached at about 1245pm..slack till bout 130pm then helped her prepare ~ Makeup by me , n hairdo by her best fren. Haha. So fun. shes my very first model outside school eversince i studied in the school of makeup! haha~ so glad that she trust me for her engagement event. =p
Lucky everything went out fine! hehe~ very satisfied n happy ~ it really makes me wanna work harder to achieve better ~ hehe. =p
Hmm.. feeling so tired now.. Yawns. Lack of sleep recently.. for e past 4 days been busy at school ~learnin diff stuffs. Hairstyling.. accessories makin.. n of cos new makeup techniques. Though tired. but i really enjoyed it.. HAHA.
Ok i guess thats all.. gotta go rest liao.. tmr off to SENTOSA! yeah~ Nitezz...
The pics....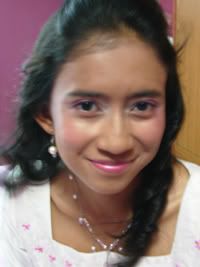 The pretty lady of e day!!!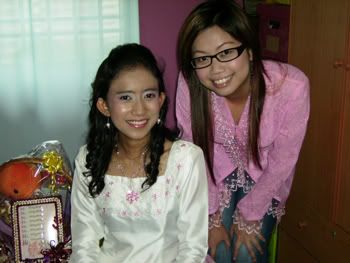 Me wif the pretty lady!! hehee....
we had everything
11:24 PM
Wednesday, April 05, 2006

[currently feeling: Sickly]
[currently playing: Usher - You Remind Me]
Recently there alwaes a sharp pain at my abdominal area. Wonder wats wrong. Sighs. Very scare of gettin sick. very scare of hospital. very scare of med. i jus hope nothing is wrong.
Anyway pretty fun in class lately~ learned new eye shadow techniques,n mixing colours.~ interestin!hehe.. classmates has been very fun, encouraging and helpful. . hehe.. Pics of my pretty classmates again. .. hehe.. see my work.. the first pic, (Me n Judy).. nice? LOL~follow by classmates evelyn,adeldyne,adrich and group pic wif marlene~ =p

Hmm yesterday evening went to meet jac, ru, qi n yk at bbp jack's place for dinner.~ Yummy though it was bit ex though~ haha..but i enjoyed e dinner! mayb cos im very very hungy! LOL ~ after that went to starbucks and chatted rubbish till bout 11pm. ~but i guess mostly im e one toking all e bullshit la. ~hope i dint bored anyone . LOL. below r e pictures!

we had everything
4:13 PM