Saturday, January 07, 2006

[currently feeling: sick]
[currently playing: Ashlee Simpson - Love]
It has been raining so much recently. . e floors are all slippery.. n im like blading everywhere cos of my worn off flops. LOL. ~
Feel sick, been coughing, having headaches and slowly losing my voice.. Oh gosh~Yawns~ so sianz. i hate being sick!!! =( Excited about e KTV gathering next mon wif e SJAB Buds~! i cant b sick!! so i guess i can jus force myself wif lots n lots of water.~ =(
Hmm ~ ok.. some updates next~ let me think..
I think e only thing i can update about is the e3dogs gathering last sunday~! it was an enjoyable BBQ session held at shuhui's condo! hehe~ this is e first time e girls can jus sit around and wait to b served!!~ can see that e guys really grown up~ see what miracle army has done to the boys~~ haha. Basically from starting the fire to BBQing the food to clearing up.. its 90% done by e boys! *thumbs up! gd job boys! haha~
After the BBQ, we went to shuhui's home and played games~ its some card games that made us drink water if we lost~ haha. everyone was rushing to the toilet after every round and laughin like maddies e whole nite till 3am!!!~ and kian sent me, ming n jingyi back after that~ i guess this is e most wonderful, successful and memorable gatherin of the e3 huo bao beis~ hehe~~
A pic of e mad dogs!!~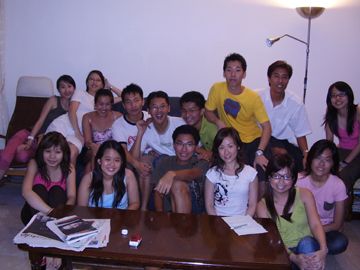 How i wish i can alwaes b young and stay worry free~ sighs~
Sometimes i jus feel that i think too much~ certain times i feel sad but jus cant find anione to speak to. ~ Sighs~
Nvm.. i think im going crazy again~ better ciao~ nitezz peeps~
Will b back with more updates! perhaps after my BKK trip this weekend!~ tata!!!!!!!!!
we had everything
10:07 PM
Sunday, January 01, 2006

[currently feeling: tired]
[currently playing: Jackie Chan & Kim - Endless Love]
HAPPY NEW YEAR!!!!!!!! Wooo.. a brand new year and a brand new start!!!
Its been a long time since i slack. LOL. spend time reading most of my fren's blogs today and notice most of them actually describe what really happened to them for the whole of 2005 and new resolutions for this year. . but i really cant recall wat had happened for the past 2005. time just zoomed by!! oh god. how meaningless is my life . .=x
Thinking back, there are actually many things that happened, eg i first joined DBS bank in march 1st, and now i will be leaving end of this mth. in the blink of an eye, almost 10 mths has passed. Experience earned in DBS is e most memorable~ like tedious learning and adapting to a fast paced and short staff environment with so many uncountable stuffs to learn, to serving horrible, unreasonable customers and difficult to handle complains.
Sometimes things are just so stressed up and unbearable but theres no one for me to turn to. but finally soon it will over. i cant say that its a totally bad experience for me, as there are indeed very helpful and selfless colleagues who are alwaes there to help me through. really appreciate all their time n effort in coachin n guiding me~
About the past, i have forgotten, i hope to just maintain happy moments and memories inside me. . life is short, we should be living it to the fullest n be happy everyday ~
Ok.. let me update some of the recent happenings~ =)
First up, is my ah gong 80th bd celebration!!!had the celebration at a resturant near Jurong east entertainment centre. Great food ! yummy~ pic consist of my cousins! but hmm its only i guess 2/3 of them??? hehe can imagine how big e family is~?below are my lovely mummy and my new bf!! Ehhh oops~ hehe jus jokin my bro la! handsome!? LOL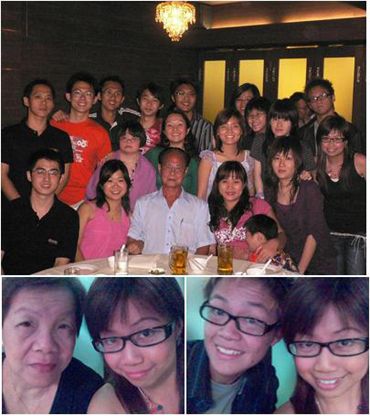 Then is the SJAB gathering! Finally after so long we can get together and have fun n laughter together. its really an enjoyable evening having steamboat and giggling wif the bunch of girls~
Then is my branch little mini christmas gathering~ hehe. lots of food and pressies! haha~ so happy.. and we actually participate in the christmas tree deco competition and got e 1st!! too bad i forgotten to take e pic, if not can host it here. (-_-)
I guess thats about all.. hehe anyway m i sua gu or wat, i saw a new fast food suntec that day.. CARLS JR~ when i was shopping around wif shah shah...and they serve really big burgers..!! haha~ very nice i muz say.. perhaps u may like to gif it a try! =)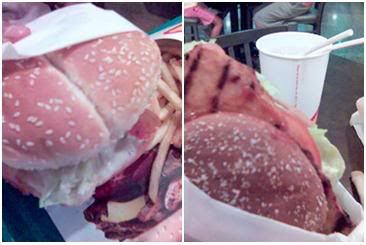 Wow.. longest entry after all these time.
Let me post my resolutions as well. haha (copycat) LOL
1. Hope to finish my makeup artistry diploma smoothly
2. Hope to get assignments during and after the course
3. Everything i do will be shun shun li li
4. Able to find a Part time job soon
5. Everyone in the world to be happy!
ok thats about all for NOW.
hahahah.. gonna go prepare for 4e3 bbq gathering later!!!!! ~ haha im so hungry!!!!!!!
take care n have fun peeps.. may all ur wishes come true ~
Ciao~~~~
we had everything
4:27 PM