Wednesday, September 28, 2005

[currently playing: Pan Wei Bo - Bu De Bu Ai]
How You Are In Love

You fall in love quickly and easily. And very often.

You give and take equally in relationships.

You need your space and privacy. You don't like to be smothered.

You love your partner unconditionally and don't try to make them change.

You stay in love for a long time, even if you aren't loved back. When you fall, you fall hard.
we had everything
12:25 AM
Saturday, September 24, 2005

[currently feeling:
]
[currently playing: Papa Roach - Scars]
New pics up!! hehe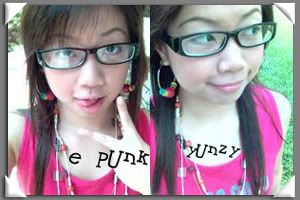 Hmm.. y do i alwaes feel so sleepy? m i getting old? haha
Life been pretty e same. Went everywhere to check out make up schools. Still dunno which one exactly to choose. Headache. how? Sighs~ nvm i think i shall slowly take my time.
Its been a long time since i met up wif my gd frens. All have been so busy.. wif school proj.. work... interviews~ sighs~everyone's life eversince sec school graduation is so so hectic. even to meet up is quite abit of prob. Miss them so much! miss e gd old days.
Hmmm.. wat do girls look out for in guys nowadays? Money? Looks? Cars? Intelligence? Gentlemen? Does it mean that got car, money one will be happy? is it really better to find sumone who is much older? so that he can understand u better, more responsible and take care of u more?
Hmm.. i think its a big question mark. when e time comes, i guess one will noe.
Haha me blabbering nonsence again. no wonder my site got spiderwebs LOL!
=p
we had everything
8:36 PM
Monday, September 12, 2005

[currently feeling:
]
[currently playing: Black Eye Peas - My hump]
New pics up!!!
]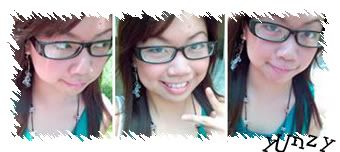 First of all, let me wish all e september babies "HAPPY BIRTHDAY!!!
N in e list there are, Wanlin, Kaili, Yanling and Meixian! =) hehe~
Yawns. So Sleepy~Been sleeping very little lately. Haha rushin between work n bd parties~ jus back not long from e long long briefing at work. YAWNS.~ tired!
Hmm so recalling what have i done lately??
Friday went to Chevrons for Kaili's bd party~met many long lost sec school mates. hearing them tok cock makes me think of sec school days. How i miss it. sighs~ despite the busy schedule of SJAB n school, i truly enjoyed myself then. thinkin back, i feel tat i hav aged so fast! its been 5 yrs since i graduated from sec. ~!
Saturday was a normal working day but continued roadshow till 7pm! So damn shack man~ i was half dead from e lack of rest for e past week and thus i was most of e time slacking around. Bo bianZz too tired liao! lol
Sunday, which is yesterdae went to orchard to celebrate Wanlin's bd. Brought her for a makeover wif some of my other frens, n e results was wooo. Gorgeous!!! its indeed a change for her. I strongly believe every girl will be pretty wif e right amt of makeup n dress up. Lookin at her inspires me to be a stylist. haha
I WANNA MAKE ALL WOMAN PRETTY! whahaha
Aniwae i have gotten my uniform and today is e first time i wore it! haha look at it here!!! SMART ma!? Wahahhaha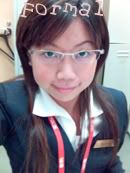 Hmm.. gotta go slack liao~ got time then update again~ ciao!!
we had everything
10:03 PM