Wednesday, July 13, 2005

[currently feeling:
]
[currently playing: Parking Lot Pimp - Blow]
Hmm.. wats up about e article regarding e NKF CEO getting $25k salary a mth?! Ppl has been talking and scolding about this whole issue. To know more..
http://newpaper.asia1.com.sg/news/story/0,4136,91366,00.html
Jus wondering.. where actually do all e money that we hav been donating all these yrs go to~?Really in e pocket of their senior executives? as a 12 mths bonus on top of a $25k mthly salary!? thats a shockin sum of money which can b used to save a whole lot of ppl. making many ppl's life better.
How many NKF's charity shows do we hav in a yr?! i cant really rem wats e exact no. Cos theres alwaes loads of it. n now they r in cancer charity shows as well.
Hmm.. how much more money do they need to save ppl~? Millions?? Billions??
Not only do they have charity shows.. they have donation cards, tins, mthly donations from e public as well.. but y r there still so many sick ppl hav no money to cure their sickness?! this really makes me ponder. $$$$ to NKF Organisation for their shocking pay or to save e poor sickly ppl~?
Aniwae.. enough said.. its so disappointing to hav this kinda news coming out from a reputable organisation...
Ok.. whats up next!? Genting pics! hehee!!
This is e link...
GENTING PHOTOS!
Sianz. Miss slacking and lazing around...
Btw.. genting trip was a nice one! e weather there is so cooling and relaxing.. unlike singapore!!! couldnt stand e humidness and hotness when i was back.
haha..
Played most of e rides in e theme park.. n taken loads of pics. Hehe..
Ok.. guess thats all for now.. Yawns.. i feel sleepy.. haha at 3.54pm in e noon!? =x oops. im a lazy piggy..........
we had everything
3:43 PM
Tuesday, July 05, 2005

[currently feeling:
]
[currently playing: Lee Hom - Forever Love]
Hehe went to collect my gu gu specs today. Hiak hiak. Do i look funny over here!?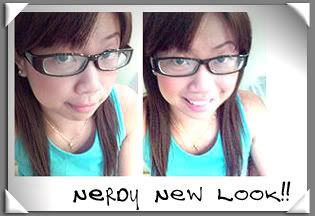 Hmm.. aniwae tmr will be leaving for gentin le. Guess wat?! this is my first time there!! hehe.. but so fast.. 1 week will soon be over. Arrghhh!! my block leave!!! =( sadden..
i dun wan get back to work!! haha.. lAzyYyy me..
Aniways..Update again when i come back. Take care peeps!!!
we had everything
10:37 PM
Sunday, July 03, 2005

[currently feeling:
]
[currently playing: Zhang Shao Han - Journey]

Your Birthdate: June 6

A birthday on the 6th of the month adds a tone of responsibility, helpfulness, and understanding to your natural inclinations.

Those born on the sixth are more apt to be open and honest with everyone, and more caring about family and friends, too.

This is a number associated with responsibility and caring - this birthday lends a degree of concern for others.
One week block leave on e way!!! yeah!
we had everything
1:19 PM