Tuesday, April 19, 2005

[currently feeling:
]
[currently playing: Clay Aiken - The Way]
New pics!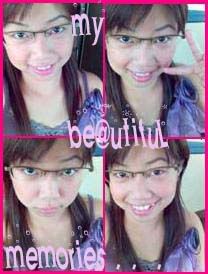 Yawns.. So fast another day passed. Time can really zoom past without me really doing anithing much.
Aniwae jus back not long ago. Went bee house to be her fashion designer for prom night. LOL had a great time playing and messing wif her face and hair. LOL. Hope her hair is still intact now.
Sighs~ aniwae today has been a rather bad day for me.
Ganna lots of scoldings. Its jus like a scoldin day. cos watever i do, i ganna. Super duper no mood to do anithing at all. Even lunch time oso needa throw aside my rice and rush to do some stuffs before i can continue to eat again.
Got a very jia lat scolding at e end of e day. so many colleagues look at me. damn pai sey loh. I mean im still new. of cos got alot of things dunno ma. Sighs. within 1 mth, i open my own counter and already started serving customers all alone. Isnt tat already gd enough? Dunno of cos ask la. though i admit sumtimes i would really look so distracted n in my own world. but overall i still gif my very best.
Haizz.. hope i can be more alert. Little things can make my mind wonder around. i just cant keep my mind wondering around. Duhz.
Hopeless me. Tmr got to wake up early to work again. got service meeting summore and Sat got roadshow.. Working life is so lifeless..
Looking forward to my off day on thurs.
Time to Slack and wonder off again...........ZZZZZzz
we had everything
11:21 PM
Monday, April 11, 2005

[currently feeling:
]
[currently playing: Avril Lavigne - Complicated]
New pics!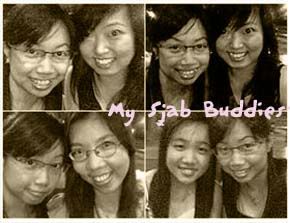 The above pics shown are my wonderful sjab buddies. Actually got a few more pics. but im too ugly in it. so i hav decided not to put it up.LOL. =p
Aniwae..Hmm..today is e last day of e training le. So sad. miss training. Tmr gonna go back to branch. i feel tat im still as blur as before. Jia lat.. e stress level shoots up again. Sighs~
Haha aniwae today jeanie (my training coursemate) commented my blog as "DEPRESSED" and advise me not to be over depress. Hehe.. this make it a converasation topic for our teabreak. haha. so interesting.. Cheryl (my another coursemate) said tat she got 1 fren who is depress, jumped and died and for jeanie, her cousin actually cut herself, and had 13 stitches. So sad. Some ppl can be so depress that they dun even noe wat they are doing..haiz..
But aniwae.. i should feel fortunate. i have ppl who really love me.. appreciate me e way i m and alwaes there for me whenever i need them. mayb i should learn to take things easy. learn to let go..instead of brooding over some stuffs that r long over...
Will you regret one day that u didnt do wat u feel u should do at a certain pt of time?
Cherish all you have... show e ppl tat u love that u truly love and care about them..
To conclude everything.. im not depressed. Just feel utterly hurt, disappointed and sad over sumthing. thats all..
Peeps dun get over worried ok?
I thank those who are concerned. U peeps deserve a big **HUG**!!
we had everything
9:45 PM
Monday, April 04, 2005

[currently feeling:
]
[currently playing: Avril Lavigne - My Happy Ending]
Hey Peeps!!! Its been so long since i last updated! heres a new pic!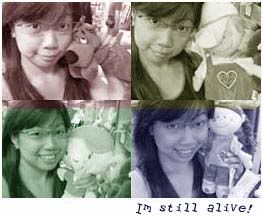 Aniwae... things had been pretty the same for me this one whole mth..Was actually thinkin of droppin e idea of bloggin.Cos i seriously think tat ppl who really cares bout me will call or msg to ask me about my life instead of reading jus a url?Hmm..wonder how many ppl actually still read my blog. Or is it full of dust!? haha.. but so touch tat there is still ppl out there who wanna read bout my life. thought no one would even bother if im dead or alive. =x Oops think i said a little till too serious. hehe jus kidding aniwae.. jus treat it as a whole chunk of crap..
Hmm so wats up for me these days? Will be having my last week of training this week at tampines dbs training centre.
Training has been rather boring. but still better compare to working. cos more slack. LOL. If report to branch.. every morning got to wake up at 615. then roll out of my house by 650.if not wont be able to reach on time.Sighs.. Aniwae been given a counter at my branch le. hehe DBS Balestier Branch. Customer Service Counter 8. haha yes.. tats my counter. Any enquiry? Come to me.. LOL
Hmm overall everything is ok la.. only thing is quite stress cos alot of things to learn n master. as e title says.. customer service..tat means got to noe everything. In n out of the bank.. in order to ans resonable plus wierd and funny questions. In short..So long customers ask it.. i have to ans it. =p but i guess good for me oso.. cos its a gd learning experince.. Like wat ppl alwaes say.. learnin has no boundaries! Wahaha~
Lots of roadshows lining up for this mth.. still haven cfm e date tat i will ganna. Yawns.. very sianz..
Not enough sleep.. brain cells all used.. working life is dead dead dead...
haha lookin forward to thursday.. which is Jac's bd!hehe.. so long never see liao.. waiting for crapping time and catching up with the girls.. =)Hope everything is very great for everyone!!!
Sighs~ deep thoughts really kills.... ARRGHH! hate me. stab me. shit at me!!! grrr
Im mad. Forget it.
we had everything
9:45 PM