Saturday, January 22, 2005

[currently feeling:
]
[currently playing: Luo Zhi Xiang - Xiao Chou Yu]
NEW PICS UP!!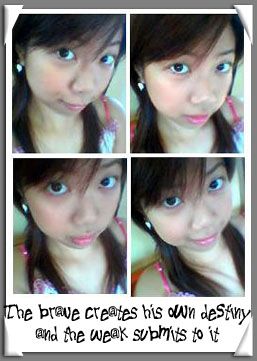 YAWNS..so sianz..tmr gonna go work again..SIGHS..work has been rather stressful these days due to the one week mc i had last week. SIGHS..its chaotic, messy, like shit.. MC one week, work oso stay there for one week.. Theres lots of shit to do.. SIGHS..thinkin of needa go back tmr makes me SIANZ..
Aniwae finally today i got to go out walk walk le!hehe..went to Chinatown to shop shop.. but hmm guess u guys should noe la.. instead of walk around.. is squeezing around.. si bei sianz. many ppl..n lots of fatti boms boms in e crowds whos so rough n uncivilised.. jus like to use like butts and chest to push ppl around. So wat if u hav big assets? fill like kickin them down..Next up is e aunties, duhz.. dunno wat is queue up n orderly manner.. jus keep on squeezin n squeezing..as if in front got free gift.. (-_-) Rubbish were almost all over e place.. to conclude, if u were not prepare to squeeze and be squeezed, dun go to chinatown.LOL
But hmm.. theres actually lots of stuffs to see n buy..but mostly is nian huo la..lots of food stuffs..sweets and hong baos..really reflected how re nao chinese new yr is..haha.. so fast..bout 2 more weeks..it will be chinese new yr.. still rem when i was young, i still to look forward to it. Look forward to hong baos, new clothes..haha but now.. treat it as jus a normal day..haha..
Hmm.. aniwae thx to peeps whos concern bout my sickness..im better le.. =)
All peeps do take care of ur health cos new year is coming.haha save ur health to eat more then! hehee~
Ok time to sleep le... A boring day tmr....................
we had everything
1:50 AM
Saturday, January 15, 2005

[currently feeling:
]
[currently playing: Simple Plan - Perfect]
Hmm recently lots of time to blog eh? cos everydae at home oso nothing to do.. Stay on my bed till i very sick n tired le.. Sighs~
Yesterdae was e worst day of this week. Sighs~ my degree rise to 38.4 at e evening n continue like this throughout e night..i couldnt think.. my head was so heavy n everything seems a blur.. im not concentrating to wat ppl were talking about..jus like im in a world of my own..
Even when i lie on my bed i heard noises.. foot steps..ppl laughing.. are these e kinda illusions ppl usually have when they have high fever? Sighs i dunno.. but im jus too weak to do anithing.. to really speak.. my whole body is so restles.. weak.. i only noe it is so terrible that tears flows automatically.. =(
Aniwae getting better today.. at least not as bad as yesterdae..
Thanks peeps for ur concern.. and those who wanna come visit me.. =) *hugs* hmm but better dun come.. cos i scare spread to u all.. Do take care n drink more water ok? Weather nowadays is horrible...
we had everything
11:13 AM
Friday, January 14, 2005

[currently feeling:
]
Hmm.. jus an update.. i jus came back from Doc again.. CCK Polyclicnic.. Wonder y its not raffles? Hmm long story..Duhz~ sighs~ having a fever again.. 37.6. =( had a blood test.. n tested its not dengue fever.. HENG AH! Hmm.. doc say its baterial infection. Wonder wat e hell is that.. Sighs.. feeling very terrible, restless and weak now.. Duhz..i look as pale as a piece of white cloth. Scary.. jus ate my 3rd set of medicine.. wish me luck tat i will really get well this time.. =(
Having fever for consecutively 5 days is no fun... Sighs~~~~~~~
we had everything
2:56 PM
[currently feeing:
]
[currently playing: Zhang Dong Liang - Ji Mo Bian Jie]
Gosh.. Guess wat? i still couldnt go work today.. Cos my head really hurts this morning..Especially when i started coughing.. e back of my head hurts.. so mum dun allow me to go work.. cos she scare i will fall sick n later i need to travel all e way back alone again...=( i still feel restless n sick though im about to finish my whole lots of medicine.. =(
Gosh im getting really scare of my condition.. this is e first time i ever got so sick, Sleeping almost every hr.. eating very very little.. i look so pale n hagged!!OMG! =( i jus called e clinic to extend my MC. But the lady said tat e doc is not in yet. n i cant extend it like this.. so i may have to go down to see e doc again. But raffles leh! Sianz.. ask a sick baby to travel all e way down there? sighs~ i am bit reluctant.. but i guess for my health i should eh?
Talk to tat lady about my condition.. she say would have to take blood test to be exact of the fluctuation of my fever..and how come my sickness is so persistent. Cos "mayb" Dengue fever! =( duhz~ it really make me so scare~ lets jus hope everything will be jus fine.. i hate docs.. hate medicines.. hav been forcing myself to pop those yucky medicines into my mouth these days. but still im not well.. =(
I have only work 1 1/2 days this week.. damn lots of work to be done.. how??? Gonna go bang wall liao la.. DUHZ.. wat e hell really happen? y like this?? =( SIGHSZZZZ.....
ZZZZZZZZZZZZZZZZ
we had everything
9:26 AM
Thursday, January 13, 2005

[currently feeling:
]
[currently playing: Pan Wei Bo - How Are You]
Hmm..muz b surprised how i got to blog at this time of the day again?haha...guess wat? im down wif high fever again. =( i jus wonder wat had really gone wrong with me.. my temp keep on fluctuating.. Mon = 37.9 -> 38.5 in e morning.. then When i went 2 see doc = 37.2, when i get home, 38.2!!DUHZ... wat e hell..e stupid doc gave me a little fever med, antibiotics and some lozenges + 1 day MC. So Tues i went back to work.. guess wat? i feel really sick tat day.. n after work.. i got fever again..+ flu + cough + super sore throat =( tat night couldnt even sleep cos i cannot breathe.. sighs~
Actually intended not to go work yesterdae cos i feel feverish in the morning..but cos a new part timer is coming to help me with the data entry for the new system..i needa go back office to coach her..haha n guess wat my colleagues all say i look funny yesterdae..cos i was really pale..
Aniwae HMm perhaps e system is really messy.. n u need alot of determination n patience to do it..e poor little 18 yr old girl.. like couldnt manage.SIghs~ n she dun seem to b learning fast.tats e main prob. cos im really sick..n i really hope to teach, get over it n go see doc. But..Haiz..she couldnt make it..thus nvm.. we continue until about 12pm.. n i went to see a doc..my degree was 38 again!duhz. really wat e hell.. no wonder.. i feel so weak n restless throughout e day.. =(
Aniwae e doc gave me 1.5 days MC. n lots of medicine..
This is e first time i got so sick in my life. Seen 2 docs in a week. got fever almost e whole week. Lying on e bed most of the time.. n spend about $60+++ in seeing these docs.. Plus only 1 day of work? im not too sure bout whether i can go back work tmr cos i still feel sick.
Work is in a mess n theres piles of stuffs to do.. =( cham.. e new comer dunno can handle anot. Haiz..si bei sianzzzzzz
Wonder y is this fever so persistent..sighs.. actually im bit scare.. is there sumthing wrong wif me? Sighz.. i jus feel terrible =(
Hmm jus pop e medicine.. n i think its taking effect.. gonna go rest le..
Take care of ur health peeps..
we had everything
11:31 AM
Monday, January 10, 2005

[currently feeling:
]
[currently playing: Kylie Minogue - Red Blooded Woman]
NEW PICS UP!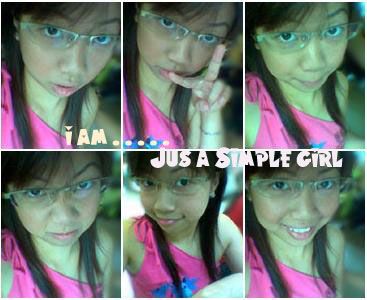 Hmm wondering y am i blogging at this time of the day eh? Sighs~ did not go for work today cos was down wif a high fever this morning. 38.5 degree! Scary eh!? ate e medicine, rest le.. n now feeling much more better. YAWNS.. but my head is still damn heavy.. n im shivering..feel so cold..jus hope by tmr i will be fine. but thinking of going back to work makes me even more sick! DUhz
The migration of the new system is making me so mad. Im like a superwoman gonna bao sua bao hai. Sighs~ work is gettin stress stress n more stress..wonder when this new system will be up. they said they gonna get me a helper..but till now i dint even see anione.duhz~
Aniwae so i have missing for quite some time~ haha. let me hav a brief summary of wat i hav doing.. hmm actually nothin much la.. cos im not a very interesting person eh.. =)
Last week was out for gatherings.. fri which is the eve of new year day, celebrating ruru birthday n hanging around wif the sjab buds at cine yuki yaki.hehe had a buffet meal + ice cream buffet as well. not too bad. but very very ex wor.. $29.90~abit heart pain LOL.but its been a long time since we get together..was glad n happy to catch up wif them..
Then on sat which is the new yr day, went for a secondary school class gathering at Marina south. eat steamboat oso. haha 2 days of steamboat, eat until i bit scare sia.. aniwae its been a even longer time i met up wif my sec school frens ah..LOL~ most of the guys were in army..looking at them, really makes me feel old..lol..time really flies..
Wondering when will my poly gathering come..Hmm but i doubt so la..cos all of them so damn lazy.LOL..plus most of them oso in army..muz b really busy..but hmm bit miss them..
Really miss the studying times..hate e working life.!duhz!
Yawns~ my head still hurts.. ZZZzzZzz si bei sianz.. i guess time to go for a little rest... take care peeps..
we had everything
4:05 PM