Monday, December 27, 2004

[currently feeling:
]
[currently playing: Simple Plan - Perfect]
Pic of me, in case anione has forgotten how i look like. LOL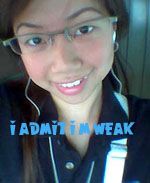 Sighs~ I feel so dead..
Just back from JB wif my colleagues..the jam was horrible.Took me 2 hrs to get back to Singapore.Can u imagine that? OMG~ Anyway dint bought anithing this trip. haha cos nothing caught my eye. Just bought 2 packets of mama fav sweets~ tats all~ haha~ Hmm today mostly spend my time eating.. went to City Square Marry Brown, then Genki Sushi then Taman Market to eat stingray. *yummy* n cheap.. haha So scary right? Damn fat le still eat so much. SIGHS~
cant eat for the next few days le haha~
Hmm aniwae this holiday for me nothing much la.. went to watch "Gong Fu Hustle".. haha damn funny. its a muz watch movie wor.. Really can let one concentrate n forget all troubles for the moment. Stephen chow never fail to make me laugh. hehe love him so muuuccchhhh! LOL
Sighs~ got a surprise today. Was actually expecting it but dunno y, when i recieved it, i suddenly feel funny. I alwaes thought i can just forget anithing if i really tried hard to. Sighs~but i think i failed again.. there r jus too many memories in me..So long its triggered, all the memories will come back to me once again..y do memories alwaes haunt me? Y cant i decide, forget and get over it? Y muz i be so soft hearted everytime? Y others can get over it while i cant??Y others can take things easy while i cant?Y muz i this y muz i that? Theres jus so many many y y y in my mind that is driving me crazy~
*SIGGHHHSSS*
Buey da han.. waiting for my long stupid hair to dry.. tmr will gonna be a working day again. this week gonna be a real stress week. The new system is up soon, and the director expects it to be up next week.SO? Data keying will be hell for me. Haiz~ life is alwaes so unsmooth n so bad for me.. DUHz. Y Y Y Y? The more simple i wan things to be the more complicated it will be. ARRGHhh~ i hate myself..
F*** off yun! U Suck! Duhz!
we had everything
11:45 PM
Sunday, December 19, 2004

[currently feeling:
]
[currently playing: Linkin Pak - Numb]
Woot!!!yeah~I HAVE PASSED MY BASIC THEORY TEST!!! hahaha! yeah~! so happy today.. mayb some of u may feel tat it should be an easy test, easy to pass. but haha i really feel so happy!!!!
Cos i thought i will fail sia..last min study..summore never really finished.. So lucky, one time pass.. Really damn heng!!!!
Aniwae sighs~ sudden feel of stress bottling up my whole mind again.. DUHZ!i feel like exploding!!!! Duhz~ enough said.. dun wanna make it spoil my happy mood~
LALALLALLA~ ciao~
we had everything
1:52 AM
Friday, December 17, 2004

[currently feeling:
]
[currently playing: Extreme - More Than Words]
NEW PICS UP!!!!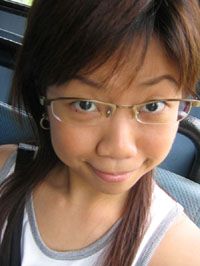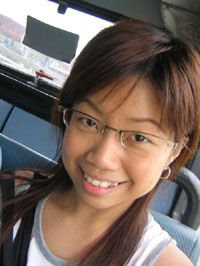 Wahhaha am i cute!? =x wat a stupid question right?
Aniwae recently bit slacken le.mayb cos all e sales ppl r on leave thus workload has significantly decrease.. hehe.. so happy..lets hope this will continue?LOL ~ so bad right?
So next week is christmas le..wats up? my company is gonna have a little celebration on e eve. hehe im so excited about the gift exchange session..LOL i love presents~! =x haha ~
Hmm nothing much to update for now..
So sianz.. sat got to work full day.. sianz sianz sianz...........
we had everything
1:26 AM
Sunday, December 12, 2004

[currently feeling:
]
[currently playing: Savage Garden - Truely Madly Deeply]
New pics up!!!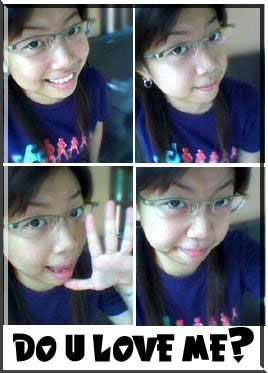 Hmm i feel so much lighter now. thx baby~ i really encouarge your persistancy and ur sincerity~ i really feel like giving up~ but u pulled me back once again~
Im really such a failure. i gave up even at e slightest problem. Sighs~
Aniwae today went lin's house slack and play badminton. After tat went to west mall MOS Burger to hav our dinner. its been such a long long time since i last exercise. Hahah~ my body damn aching.
Aniwae peeps im fine~ dun worry ok? Just some little madness at times when i couldnt think properly.. im weak n i admit it..nothing wrong right? Hahah~
Tired... niteZz peepz~
we had everything
1:56 AM
Saturday, December 11, 2004

[currently feeling:
]
[currently playing: Fixing a Broken Heart]
NEW PICS UP!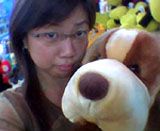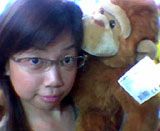 Haha dun i look so poor thing? whahahahah~ muz pei4 he2 e poor dog~
Listening to a very nice song now~ nice lyrics too~if u all got the time.. should go n download. its really wOOooo~
Aniwae its been some time since i last update. Haha but i guess not much ppl would b interested to read my blog la~haha~
Used to treat e blog like my online diary. Jus type in watever i do n feel. Had bad comments saying that i shouldnt expose too much of myself, had gd comments tat say its gd to noe about how i am doing lately. but so? tat is gd or bad? should i continue? SIghs~ nothing much to blog oso. mayb cos i now back to the state wheyby im hiding inside me all over again.
Work has been rather ok ~ mayb cos im more or less used to it. n more heck care~ Carry on backstabbing if u wan. i did nothing wrong. n im wif a clear conscience~so ? i dun even bother about u~
Sianz next week night shift le. SOOOO sianz. will b takin my basic theory test next tues.haben even study.got a sure fail feeling.thx bee for lending me e book!~ =)but eh.. its still on my table ~ hehehe =x
Dunno y~ feeling pretty down. Dun hav animore meaning or goals in life. mayb cos e more effort put in ~ e lesser i will get? wats e use of giving everything when nobody appreciates? there are so many why why why~ sianz..
Gonna go out breathe some fresh air~ my head is so heavy. couldnt sleep well these days. Sighs~ yesterdae night i drink. with? haha alone. another night crying myself to sleep. e feeling jus sucks. but.. who else can i depend on? no one.. wat a pathetic me. haiz~
enough said... time to be gone.......
we had everything
11:40 AM