Sunday, November 28, 2004

[currently feeling:
]
[currently playing: Jacky Wu - Fang Wo Yi Ge Ren]
Sighs~ its been a long day~ working on this stupid lazy sat afternoon~done all e filing..n some clearing up of stuffs.. feel a sense of great achievment~ haha
Aniwae today met e wierdo again..n guess wat? he came over n tok to me ~
Was actually printing some labels for my namecard, n here he comes asking "wat r u doing ah? wats the machine used 4? Y so late haben go home? So much work to do ah? dun work go hard la~ go home eat dinner~" haha DUHZ so many questions!buey da han..everytime i saw him i sure shiver one..sianz.. on thurs night he oso scare me once. lol
Was packing my stuffs and suddenly he appear behind me asking for an envelope.LOL.. i dint notice him behind me until i saw 2 of my colleagues getting up from the sofa infont of my desk n walk towards me.Hahah ~ got a little shock cos he was standing not very far from me~but aniwae lucky some ppl is there~ if not i sure panic~ (-_-)
Hmm.. dunno y ~perhaps is his looks? though he seems harmless, his looks really gif ppl e kinda creeps~haha~ very bad hor me? jus hope tat he can stay far away from me..n stop asking me all those dumb questions~ *SIGHS*
So christmas is coming soon..ani plans up anione? As for me i got one very impt task!haha tat is to decorate the christmas tree for my company!hehe..gotta get it up next week!but too bad i never done it before.. gonna go crack my rusty n dusty brain liao~ hehe..
Today went Toys r us~ saw some incredibles toys~ so cute! Here are e pics~~ =)
Wooo its 4.45am now!better go rest le.. tmr still need go my malay colleague's house makan~haha.. getting fat liao~ so sianz.z.z.z.z. *YAWNS*
we had everything
4:14 AM
Thursday, November 25, 2004

[currently feeling:
]
[currently playing: Jang Nara - Sweet Dreams]
Hmm feeling damn bo liao..took a pic n edited it.haha Trying to act cute but i think not successful la..lol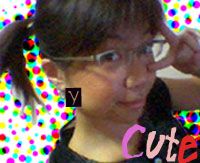 Hmm.. this week been a rather fast week..working night shift for this whole week. So sianz.. met a wierdo in my company. Whom is like stalking me~so scary~
Haha aniwae actually theres a story to it.
This guy is taking a part time course in our training school which comprises of bout 5 modules.each module takes about 10 evenings depending on the length of the module... n this guy actually has a past case of committing suicide due to too much stress or so..i dunno..this is wat i heard from the account manager in charge of his courses.
At the very beginning, even before his first module starts, theres already some commotion. Y? cos of his fees. N jus when my account manager was trying to confirm whether he will be attending the first lesson, he keep on saying dun press him cos he dun hav e money to pay up.DUHZ..all they wan to noe is whether he is attending anot.no one asking for payment, but wat he keeps on saying was asking us not to force him to pay up!real weird..n my manager actually told us dun force him if not later he go commit suicide.
Scary guy doh?sighs n dunno y.. im e unlucky one..everytime he come he sure stand infront of me.. stare very very long..oso dunno stare wat..n overtime i got so scare..whenever i see him i will run..n hide sumwhere, n guess wat? last week my collegue was on night shift, n he went to ask her where am i? last sat oso ask where am i.. the day before, he ask he trainer how old am i.. n the most scariest part is i walked past his lecture room bringing a customer to another room, he actually told the trainer " eh, see siyun walk past." when i walk away another time he said " eh, siyun walk off liao" scary!its like he observing my every move!DUHZ~ yesterdae when he came out for break i hide inside e office. N he was standing infront of my counter ~ i only dare to go out after my colleague told me "CLEARED"
Sighs~ guess im in deep shit.. pretty scare actually.. but my colleague told me i should not let him noe i am scare~ sianz.. ugly girl like me oso will ganna this kinda thing.jus hope he stay far far away from me.... SIGHS~~~~~~~~~~~~~
Things which i long to have i dun get it.. things tat i dun even wanna have comes to me.. wat e hell!?DUHZ! shuey me.. y i alwaes so shuey!? si bei sianz..~
Let me jus hope again... TMR WILL BE A BETTER DAY~~~~~ haizzzzzzz
we had everything
1:35 AM
Tuesday, November 23, 2004

[currently feeling:
]
[currently playing: Mw - zeng jing ai ni yong yuan ai ni]
its been a wonderful sat for me~been such a long time since i last met my sjab gd buddies. =) met Jac, Yiru, Yanlin, Yoke kheng and Sir at round 8 + pm for a steamboat at Marina South.haha was supposed to meet at bout 730pm but everyone was late.. (-_-) haha Sir was e earliest to reach as usual..Lol.. n we all made him wait like hell..
And as usual, e moment we met, sir started to make some funny n wierd n bad remarks like "wah ni men fa fu le", "you all hair so dry" n some really strange comments..haha..he never fails to make us laugh at his unusual kind of talkin style and e generation gap we r alwaes mentioning.
Its been so many yrs, things change, surroundings changed, ppl changed but SIR STILL DO NOT CHANGE!haha wierd eh? look at his looks, its jus like e same yrs back.. hahaha
below is a group pic ~
hmm but i really do admit i have become fatter le..sighs.. especially after eating so much from my "jia jia jiu" session at e steamboat..haha...been eating n eating.. dunno wat e hell im doing..mayb cos bout one week back, had a really serious gastric ba.tats y pretty scare now. the pain then was really horrible and i cant even stand..n oso tears was oso rolling in my eyes..u guys can imagine e pain? Jus rem to eat n u wont suffer this way *winkz*
Aniwae after the steamboat, we proceed to sing KTV at lot 1 Kbox till 3am n then walk over to Jac's place to sleep.Haha on e way saw 7 big stray dogs sia!scary..lucky got 4 pretty girl girl protect me. lol~ =p
Really miss those times together in SJAB..being wif the girls make me feel so happy n chirpy...its jus like being in the time when we were still in sec school..been through happy n tough time together hand in hand.. those gigglings in MRT, those gossips, the scary appetite we had after sjab activity..those were really e nice n sweet memories.....
Aniwae below are more pics..hehe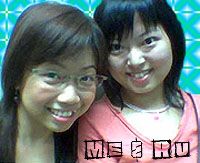 This is me & Ru Ru jie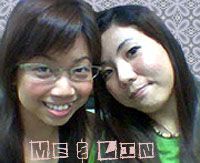 & this is me n my long time fren Lin lin~
Lastly a stylo milo pic of Yiru jie~
See her hair style..swee swee sia.. a nice n successful makeover *THUMBS UP*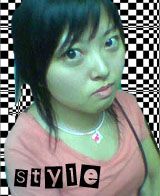 Hmm guess tats bout all le.. this whole week night shift.. so sianz..
Life has been pretty down these days...
Just hope tmr will be a better day...
we had everything
1:46 AM
Sunday, November 14, 2004

[currently feeling:
]
[currently playing: Britney - Everytime]
New pics up!!!!!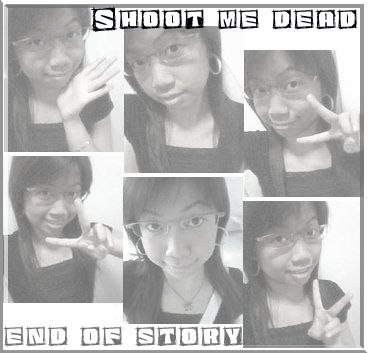 Pics taken before going out...
Jus a normal day. . . .
Wonder if u did miss me...playing M.I.A and silence games?
Have fun playing....
we had everything
9:19 PM
Saturday, November 13, 2004

[currently feeling:
]
[currently playing: Smash - Talk to me ]
New Pics Up!!!!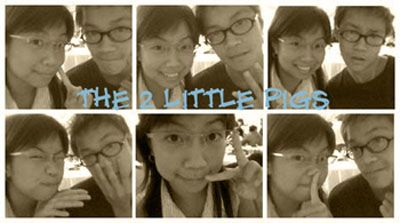 WooOoo... has been sneezing n sneezing non stop.. duhz.. dunno wat e hell has gone wrong wif me.. guess falling sick soon? haha i dunno..
Aniwae...Hmm hehe first time my bro pics is up!hehe is he handsome?lol.. n do we look alike? haha.. aniwae these were taken yesterdae at my cousin wedding.. ppl alwaes say.. a girl will look e prettiest durin her wedding.. yes it absolutely so so true..my cousin looks gorgeous yesterday.. guess wat? shes only 22.. so young..but was feeling really happy for her.. cos she has found the one for her..
How gd n nice it is to hav someone who truely loves and pampers u? hmm.. often things wouldnt be as perfect as u want them to be.. sighs ~
Lots of thoughts been in my mind recently..nvm~ guess its nothing great to tok about..
Aniwae met up wif bee, qi and lin on thurs..first me n bee went shopping for a little while then at bout 6pm we meet up wif qi n lin.. went Cuppage KTV ~ had a very nice singing session.. haha its been so long since i last went to Ktv.. miss it so much.. eversince i started working. no time to really enjoy..haha.. was glad to hav a meeting up session like this.. n glad to see all my frens n noe how r they doing..really hope i will get more chances like this =)
Hmm.. i guess i dunno how to blog liao.. e entries i type r getting more n more funny isnt it? Lol.. Whats life really about? sometimes i really wonder....
A meaningful pic.....
we had everything
10:57 PM
Wednesday, November 10, 2004

[currently feeling:
]
[currently playing: Britney - Everytime]
Wow..time flies again.. this week will be a long weekend hehe~oso dunno should be happy or sad.. sighs~
Hmm aniwae went IMM Long Beach to eat on sat.. said in previous post, its actually a company gathering..was actually suppose to go bowling with my colleagues before the dinner..but i missed it..cos acc shah go buy clothes wif cy..went to queensway walk walk.. nothin much for girls..so sianz.. but heng shah got buy alot of stuffs la..haha at least not a wasted trip down..haha but we took a real long time in deciding what colour to buy..lol.. Saw a pair of shoes which i quite like..but hmm seldom wear covered shoes..so drop e idea of buying it..lol
After the shopping we then proceed to meet up wif our company ppl..they were all set n rdy to go for e dinner..lol.. was actually thinking it will be a very wonderful meal..but hmm i guess too much big eaters wif me..haha..e food was actually not quite enough..lol..all of them was like fighting..lol..but heng i not much appetite..so its ok..lol..played wif my colleague's child too..she is jus so cute.. hehehe~ look at her face.. so sweet!eyes so cute!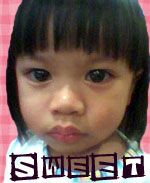 really love her man..i loves kids!but not naughty ones la..lol they r alwaes so sweet n innocent.. hmm guess wat? bought a pair of sandals on e way to e toilet..cos a sale was going on..lol.. Power ma? on e way to toilet oso can buy sandals..lol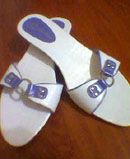 Ok so tats all for my sat~as for sun.. nothing much too, lazing for e whole day.. thinking about crap.. talking crap.. doing crap..haha went to eat steamboat at marina south wif shah n cy.. nice food!hee both of then cook for me.n cy even peel all e prawns for me..!lol.. feel so pampered..sumtimes being e only girl in a group does feels nice..wahhaha jus jokin~
Yawns.. i feel so tired.. last tues took leave.. chose to swop duties wif Faizal.. n thus today im doing e full shift.. 8.30 to 10.30!YAWNS!!!!!!!!!!!!!!!! sianzzzz gtg soon le.. ZZZZZZZZZZZZ time.. take care peeps.. call me out if theres gatherings hor..!hahahah =p
we had everything
1:37 AM
Tuesday, November 02, 2004

[currently feeling:
]
[currently playing: Mandy Moore - Moonshadow]
WooOoo its really been a very very long while since i last updated!!! Duhz~ life has been pretty busy recently.. mostly with work.. i dun have enough time!!!duhz.. i need more more n more time!!!!!!!!!!!!!!!!!!haha
Aniwae sick of the old blogskin.. jus changed 1.. cute?lol.. Hmm.. this sat got one company outing.. going Chevron bowling after that proceed to Long beach for dinner.. wonder hows its like.. first time going company's outing after my 3 mths plus of work there..
Talking bout time, it really flies, i have already worked for 3 mths plus near to 4!!!!Woo... scary.. time is really speeding passsssed....im getting old real fast!!how sad =(
Hmm.. i guess theres nothing much bout my life these days..
Just that e kind of loneliness is creeping in my mind again.. not becos of i have no one to acc me.. not cos of i have nothing to do.. but its all inside me... deep deep... far inside me........................ sighs~
we had everything
1:39 AM