Sunday, October 10, 2004

[currently feeling:
]
[currently playing: Baby - Ai Qing Bu Neng Zuo Bi Jiao]
NEW PICS UP!!!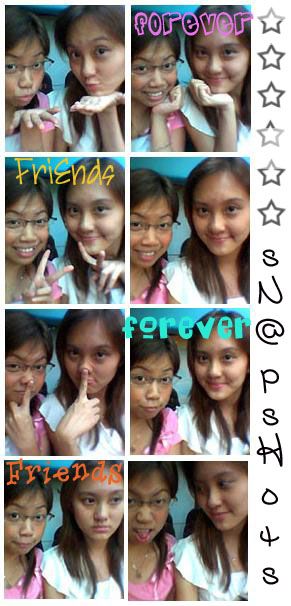 Woo.. came home late yesterdae n was so dead tired..was having a slight fever but lucky i have got well today.. haha..
Went shopping wif bee bee today.. bought a dress for my colleague's wedding next week and a little casual bag.. haha.. had a nice catching up session wif bee bee today..but too bad time is abit short cos we meet up only about evening..
Hope to get another catching up session soon! haha but i guess got to wait till her exams finished le.. aniwae we had a very nice time snapping n posing infront of our phone cameras..haha on top are e results of our zhi pai!!hahahaha~
Hmm.. life is still pretty e same for me.. was actually intending to go back office do some work today.. but dear told me not to go n rest at home.. dunno hows my new colleague doing.. feel a little bad never go help him out today.. but sighs~ was really tired n dread going back office.. hahaa.. so hmm jus too bad =x Oops~ im bad aint i?
Nothing much up for now.. jus feel a little lonely suddenly.. dear has been assign to sispec.. n now he has even lesser time wif me.. SighSs~hmm today he ganna night duty.. will only be out tmr.. bout 11.. n guess wat? bout 7++ pm got to book in again.. n tats not even 1 day! Grr... sighs~ but wat to do? no choice oso..sighs~~~~~~~
we had everything
1:40 AM
Wednesday, October 06, 2004

[currently feeling:
]
[currently playing: Hoobstank - Reason]
Hmm Jus home not long ago.. sighs~13 hrs of work today.i feel so dead.my head feels so bloated n my body is so dead tired..Duhz~
My partner Wynn has left since tues..n i got a new guy colleague~N OMG he was so blur~sighs~ not only i got to do my work, i got to supervise him, teach him, make sure he does the correct things..n do his work.. im now one person handling 2 person or mayb even 3 person job..handle calls, walk in customers, admin, logistic, admin.. i feel so suffocated..y i alwaes dun hav e luck to get gd job wif gd pay?
I always will say pathetic job, pathetic pay..No OT.. n if i take leave its a no pay leave.. tats how a pathetic a probation worker is.. my 3 mths of contract is soon up.. 19 Oct will be e last day.. haven recieve any cfm yet.. but i am not sure whether i should continue if i get it.. all of them say i will get it.. cos im sum sort of e "old bird" over there since my partner has left.. n our recept is only left wif me..
Haiz.. blur blur blur.. my life is s blur now.. should i continue? but e prob is job is diff to find now as its e yr end ~n everyone is waiting for their bonus.. who would wan to quit? sighs~
I feel so so stressssss~ this whole week average knock off time is 8.30pm. Fainting soon.. my body dun feel very well le.. sighs~ ARRGGHHH!!! i muz make it!!!!!!!!
Tmr got to wake up early n this stupid routine will repeat again.. work is alwaes overloaded..Grrr..fighting against time is a real pain in the neck..sighs~
Hasnt been feeling very happy these days~sighs not only cos of work, but some personal probs as welk..sighs~ so much things are bottling in my mind~but i jus dunno how to let it out..im jus a pathetic pig~
*yawns~
I guess time for me to jus leave this world for a while..
Rest my mind..
Nitez everyone~
we had everything
11:53 PM
Sunday, October 03, 2004

[Currently feeling:
[currently playing: Jamelia - Superstar]
Hmm.. It hasnt been a very gd mth for me this past mth..work is so so stress.. n guess wat? yesterdae broke out into tears in office.. i noe it seemd weako n foolish.. but i really couldnt bear the unfinishable work, unreasonable attitude and idiotic behaviour of the sales ppl.. SIGHS~ Supposed to meet up wif my poly frens yesterdae.. but cos my eyes was too swollen to see anione.. i stayed in the office till night.. i guess i have been a fool yesterdae..sighs~
Got my colleagues and managers so worried that they came tok to me.. the work load is jus too too much.. have been bearing everything for so so long.. i dunno how much longer i can hold..sighs~but no matter wat i have been telling myself to hang on all e way.. cos i shouldnt be facing the failure so so fast..~ i guess mon will be a very embarrassed day.. sighs.. till now i still couldnt forget the down n upset period.. haiz..
Aniwae went to watch Resident Evil on Thurs wif dear.. hes been out for this whole week..cos of POP.. Aniwae resident evil is a pretty nice show.. but mayb u should have watched part 1 before u proceed wif part 2.. if not u will be abit blur..
Today went to watch New Police Story... a very nice show too.. action packed and nice plot.. like it very very much.. es wif so many yandaos in e movie.. hahaa
Hmm.. feeling pretty down and moody at e moment..dun really feel like talking.. jus feel that no one in this world really understands me.. n no one bothers n care... haiz....mayb cos im alwaes in my own world.. nothing ever goes smoothly for me.. n im alwaes e shuey kia.. haiz...sighs.. i hate this kinda feelings.. hate it to e core man! i wan myself back.. !!! Sighs~~
Si Yun.. where r you???
I think i need a gd nite sleep...
*SIGHS*
we had everything
2:22 AM