Sunday, August 22, 2004

[currently feeling:
]
[currently playing: B.A.D - Wo de cuo]
Hmm.. jus reached home not long ago.. jus bathed.. jus sat down infront of my pc.. listening to this song..damn nice.. n so so meaningful...hehe n now trying to think wat im gonna type today.. hehehe =p
Aniwae today was a sat.. n guess wat? i got to work full day.. from 8.30 to 5.30pm.. basically cos team colleagues n me think tat by working half day per week.. might as well we work one full sat then rest for 2 sats.. heee seems a better deal?
Hmm work load is getting heavier n heavier each day.. worst thing is my in charge went for maternity leave.. sighs.. no one to teach n help me animore..aniwae.. hmm feel happy for her cos she will b due in sep.. =) so excited for her..lol
Today's morning bia all e seminars thingy.. n afternoon do Ace stuffs.. after tat help my colleagues wif come easy pc stuffs.. n slack all e way..lol..sat no boss around.. so more slack.. tok cock.. play n laugh like mad ppl..lol..as if e office is ours sia.. for the one whole past mth i work.. today is e most relax day le.. haha yesterdae work till 9pm sia.. so stress.. n shag.. this whole week most jia lat one.. everydae work for bout 12hrs... *MAD*!!! life is so so bz..
haha but today still not bad la.. my colleagues acc me go watch movie.. hehe for my convenience.. we went lot 1 to watch Alien VS Predators.. haha not a bad show.. but e plot is abit.. hmmm not very gd.. but overall gif it a rating of 7.5/10 =)
After tat one of them taking cab home then lom bang me home.. so gd.. lol..
Sighs dear is still out at field camp.. so sad.. miss him miss him! haiz.. weekends without him feels so empty.. only can see photos sia.. hmm hope he comes back soon!
Hmm tmr sun.. oso dunno wat to do.. was actually planned to go out wif bee.. but she last min got proj.. so sad.. haiz.z.. perhaps.. mayb slack at home? haha long time never slack le.. life is so BZ!!!!!! lol..Heng got funny n helpful colleagues sia.. if not i sure *dead* lol~
Aniwae tats all~ hehe take care peeps!!! nitez!!!
we had everything
12:33 AM
Thursday, August 19, 2004

[currently feeling:
]
[currently playing: Keith - zeng jing ai ni yong yuan ai ni]
*sighs* its been a very tiring n stress day for me.. only 1 day leave.. it landed me wif so much endless stuffs to do.. *GOSH* feeling super duper shag now..
Hmm aniwae yesterdae was my graduation!!hehe finally i got my Diploma le!!wOoo Hooo..after 3 yrs of hardship n determination.. i finally graduated in Computer and networking!haha.. still rem i used to curse e school.. e course.. e exams.. but now thinking back.. i miss it all.. *sighs* working is definately not gd compare to studying.. used to detest studying.. but now suddenly regretted i never study harder.. but wat to do? its already e past.. haha.. but nvm lucky i still manage to get this diploma..
Suddenly feeling so lost..i will definately miss e gd old times.. those fun moments wif my frens.. n beautiful memories of me n my classmates studying together..sharing wif one another formulas n exam questions..n went out to play even though we have not finished studying for our exams! haha
Now all of us r dispersed.. guys go to the army.. while girls either go into the working life or still studying .. time to get together is so much harder cos all of us r alwaes on diff shedule..*sighs* i miss e teens yrs.. i feel old.. *duhz*
Aniwae dear was on a field camp today.. duration of 9 days.. sighs my phone is so damn quiet..i miss him.. miss his sms.. hope can get to see him soon..
Hmm feeling so so shag... gtg take care peeps.. ciao~
we had everything
9:12 PM
Sunday, August 15, 2004

[currently feeling:
]
[currently playing: Smash - Talk to me]
Hmm a very lazy sunday..listening to a very soothing and slow song..haha making me more lazy!! dint meet dear today.. cos.. hmm.. let him spend more time resting n wif family? =) hehe see i so gd.. lol.. hmmm though wish to be wif him very much.. but i guess.. hmm.. muz share share ma.. hor? lol.. sighs.. he will be going for field camp next week.. 2 weeks wont be hearing from him... haiz haiz haiz....
Been working for one whole week of full shift..tiring n shag i can say.. but heng i got quite a no of gd colleagues who acc me through =) work is stress n bz as usual~ next week gonna learn sumthin new.. i guess it will be more shiong ba~sianz~
hmm next week is my graduation ceremoney le.. so fast sia.. haha.. 3 yrs jus passed.. *blink*blink* Aniwae was suppose to meet yoke kheng later in e evening to get e blazer.. but since im not going dear's house.. so im oso too lazy to jus go all e way to boon lay to get it.. haha.. should b meeting her tmr i guess.. damn ps sia.. been shifting e time to meet her again n again..
Hmm.. *yawns* i feel so lazy~
hmmm r u thinking of me e way im thinking of u now?

haha.. ok.. nothing much to blog on le..
CiaoZzz
we had everything
2:38 PM
Thursday, August 12, 2004

[currently feeling:
]
[currently playing: B.A.D - WO de Zuo]
Woot.. jus back from home not long ago..so tired..been working night shifts for 2 days le.. feeling? TIRED!! haha but listening to this song makes me feel soothing..its a pretty nice n meaningful song..u peeps can try downloading.. hehe this is a contribution from ming~lol.. he helped me dl it cos my irc was down..Thanks ming!!!
aniwae today there was a award giving session from Microsoft.. n guess wat? my company got 3 awards!!!woo.. it was e first time in 14 yrs.. a newly establish company like ours got 3 awards in a row!! CONGRATS AVANTUS!!!! hehe
Went to wisma atria indochine pub for a little celebration. haha everyone seem to be having lots of fun..they order damn lots of red wine, white wine, whisky, coke, soda. . . haha anihow mix then drink.. so damn funny..haha fighting wif each other their liquor holding power sia.. haha everyone ganna.. including me..lol.. but heng la.. cos i youngest over there.. so my portion of liquor is e lessest! haha im not a gd drinker.. thus.. i never drank much.. haha in e end my colleague helped me finish it all.. lol.. dun waste ma.. cos ex sia!lol..
2 of my colleagues got drunk untill dunno like wat sia.. haha they took alot of funny pics of them..so funny.. all kinds of funny positions..haha both of then were like so drunk till they dunno wat ppl r doing to them man..wahahha..guess they muz b really happy...
Its a gd experience n fun time with my colleagues. they r really a bunch of fun loving ppl...i can say after work, they r all actually pretty nice ppl..
But still, job is e same old thing.. lol.. work work work.. alwaes so bz..haha..but still alright.. im getting more used to it.. =) but this week been a very very tired week..cos i got to leave work place at bout 10.45pm everydae.. reached home near 12 le..my double eyelids coming out liao..haha u peeps might think its gd to have double eyelids eh? lol.. but when mine comes out.. it means im getting sick soon.. or i dun have enough gd sleep~hahaha..
Think its time for me to stop crapping n get sum sleep..lol..
*missing my dear* dint get to tok to him these days due to my bz shedule.. so sorry dear..
ok tats all for now.. Nitez n bye peeps!!!!
we had everything
2:14 AM
Monday, August 09, 2004

[currently feeling:
]
[currently playing: Lin Jun Jie - Jiang Nan]
Hmm today many pics up.. hehe firstly is my pics!!wahahaha

Hmm.. this weekend is real fast sia..dear is booking in today. hao she bu de. tmr will e starting of my night shift..1.30pm to 9.30pm..sianz.. dread going back to work!!duhz! no choice cos i need to earn a living!haiz.z.. aniwae jus now celebrate my papa n mama bd.. hehe their bd seperated by 1 day only! hehe.. below r e pics!! hehee =p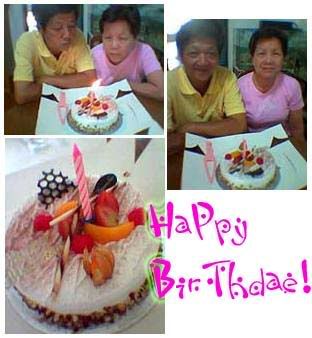 Hmm.. aniwae sat went dear's place slack a while then went to suntec to shop shop..hmm went to e tangs bazzar n ntuc bazzar..many ppl! but bought nothing..hehe had subway for dinner! yummy. first time finished e sandwich sia.. dear so happy.. cos i dun have to stuff e sandwich to him (-__-) lol.. aniwae took a pic for fun!!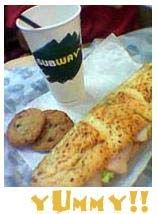 Hehe.. then yesterdae went east coast pinic wif dear.. i prepared sushi.. while he prepared sandwiches..hehe e weather was really nice there.. long time never go there le..really enjoy e breeze.. the peace.. haha aniwae saw a little boy over there.. damn cute.. n dear was like keep on disturbing him till he stays n plays wif dear... lol.. so damn cute.. but find him abit disturbing after a while la.. =x this is his pics!!!Stylo milo right?! whahah wear sunglasses summore..aniwae e sun glass is his ah gong make him wear one..lol
Hmm today never acc dear to pasir ris cos me tummy pain pain n i look so shack.. so dear ask me to rest at home..so sianz.z.. so fast he got to book in.. missing him..
Aniwae today national day.. hehe wishing all a very happy national day!! so sad i dun have e tix to go watch it live.. haiZzz...i miss e atmosphere..e fireworks.. e freebies.. lol!! =x oops!!!!hehe
tats all i guess.. take care peeps!!!!!!!!!!!!!!!!!!!!!!
we had everything
3:42 PM
Friday, August 06, 2004

[currently feeling:
]
[currently playing: F.I.R - Lydia]
Woot.. so fast its already weekend le!hehe so happy! n sum more it will b a long weekend!!yeah!!can get away from work.. get away from e buzzling raffles place!hehe..today quite heng.. able to finish my work quite early.. n went off at bout 6pm!hehe.. but too bad.. no one free to go out wif me..haha but nvm.. went to supermarket on e way home.. n bought some stuffs to make sushi this week end.. hehe its been a long long time since i made ~ *yawns* bit tired.. but its e week end! i dun wanna sleep so early! lol... gonna go play GB later..
haha did this quiz from jac's blog link.. hehe
oso dunno zun bo.. ~
you are darkmagenta
#8B008B
Your dominant hues are red and blue. You're confident and like showing people new ideas. You play well with others and can be very influential if you want to be.

Your saturation level is very high - you are all about getting things done. The world may think you work too hard but you have a lot to show for it, and it keeps you going. You shouldn't be afraid to lead people, because if you're doing it, it'll be done right.

Your outlook on life can be bright or dark, depending on the situation. You are flexible and see things objectively.

the spacefem.com html color quiz
we had everything
8:50 PM
Wednesday, August 04, 2004

[currently feeling:
]
[currently playing: Stella - Wen Yu]
Woo.. hasnt been in a gd luck recently..life is so so so bzzzzzzz....... everyday jus passed in a blink of an eye.. i need more time!!!!!sighs~ these few days has been working till bout 7pm then knock off.. im dying.. dying.. dying..
The workload is alwaes so heavy..my stuffs are alwaes never ending..sighs~ u can see me working all day long..but still, my work is still not finished..sighs.. from my performance, my in charge told me that i am still not qualified..cos i dunno how to coop..sighs.. im so stress!!
For now im in charge of e registration forms of e courses.. n all e sales personnels jus gif me imcomplete reg forms n tats it.. i got to chase them for name lists, confirm dates, grants, times, these n tat.. im alwaes like a maddy dog in e office.. chasing everyone for e details which in e first place they should have provide..
Sighs..whenever sumthing goes wrong..they put all e blame on me..ya i admit im blur.. but im not a wonder woman.. i cant possibly rem so many stuffs.. so many dates.. times.. courses.. e whole database is full of details... n im not e data base!!! duhz.. im going mad soon.. sick of all e sacarstic remarks.. all e shoutings at me... duhzzz
My job is not only to help in registrations, i needa handle phone calls, print certificates for students, attend to walk ins, entertain enquiries, do purchase order~ sianz man.. alwaes think bout themselves..think im so free to do their work for them..haiz..wat i mean r those sales ppl...
Not all colleagues r tat bad, hehe i manage to click wif quite a no of them..thus its still alright.. cos they alwaes gif me lots of encouragements..n taught me many stuffs bout life n experience...often toking crap wif me when they see me very stress haha!
In e office, many colleaugues told me tat i look so serious!! often ask me y i dun like to smile..y i so quiet..haha for ppl who knew me.. u all should noe im not like this!haha see how stress n bz i am..lol~
How i wish i can have my dear's comforting shoulders n his warm hands now..i need a comforting hug..to tell me im not alone.. sumone to hug n listen to me..sighs.. but too bad hes in army..cant even get to see him.. only can get to tok to him for some time at night..cos hes now in BMT n its really shiong..sighs~ he will be going field camp in another 2 weeks time.. so damn sad.. wont be able to see him for e next half a mth le..i miss him.... =(
Life is so.................
but i will ganbatte!! fight till e end!!!!!!!!!!!
we had everything
8:39 PM