Monday, March 29, 2004

Hmm...jus changed my blogskin..hehe again here i am slacking in my office..hehe..i even hav e time to change my blogskin..!haha duhz..yawns..its been fast eh..soon my ITP will b over..its jus left wif one more mth?zzz..suddenly feel very aimless..cos i dun even noe wat i gonna do after i graduate...no aims..no thoughts..simply nothing..*gosh* wat can i do....???????this question has been bothering me for quite some time le..n still i hav no solution to it..hmm should i go for NIE?n b a teacher for e next 5 yrs?or jus carry on in a IT line...???or jus marry a rich guy n hav a baby???haha...so many many alternatives..but i jus dunno which one should i choose...zzz..hmm time for zome work..gonna go screw hdd le..*ciaoz*
we had everything
4:53 PM
Saturday, March 27, 2004

wow..its been a long time since i blog..hmm not in a mood to blog recently..too many things happened..oso dunno how to blog them down.*sighs* aniwae now slacking in office..today my in charge so gd wor..treat me eat zui kuey~hehe so nice...lucky got e zui kuey..if not i now sure hungry..cos no one around in e office now n thus i cant leave for my lunch..gonna wait for them come back..*yawns* tired..aniwae a brief summary of wat happened to me recently..hmm went to e talentine last fri to support bee's fren hao ren..wow he sang really well sia..*clap*clap* n he gotten e 2nd!n e first actually goes to a girl who is really stylo..she sang like elva sia..chio..
n after e talentine went to clementi party world for a short singing session..haha very ex sia $17!!!for only bout 2 hrs~ sianz..cos bee's frens got to leave early..so e time not up we already went off.. zzzz..but aniwae nvm..had a great time..hehe..after tat went to bee's house overnight..we talk crap till bout 5am+ then orr orr..haha power eh..n e next morning slept till bout 2 pm then prepare to go sp again for e Miss n Mr Singapore polytechnic event. bought e tix at $5.haha went there to support bee's fren again..haha n shes ereen..e event was a rather interesting one..though e girls n guys r not really tat yandao n pretty...but each of them had a style of their own..but i particularly notice one ger cos she cat walk till as if she jus drank n is a little tipsy..haha =x aniwae she dint won..haha.. =x hmm so guess who e winner was?ITS EREEN!!!wow..fantastic ah..bee's class is full of talents..wooo..*yawns* was so jealous when i saw those girls catwalking on e stage.. =( cos their figure very nice..zzz...y mine sucks!!? =( sad..hmm aniwae tats all for last week..
n this week?nothing much leh..only wed went for a hair dressing course wif yanling at bt panjang cc..hmm fees at $65..n guess wat?reached there all aunties..haha was thinking of leaving then de..but hmm nvm la..auntie so wat?next time i oso gonna b one too.. haha but wat worried me was $65 was not e end man..we still got to pay $45 for e dummy head(e one for us to cut),n some fees for e tools..pengs man all add up bout $60+++ =( thus went to e office to cancel e course..but tat stupid in charge dun let us refund..n dun let us change course either!zzz~so bo bianzz got to continue..haha tat day ling n me oso know all e aunties man..cos we interact to them y we wan to quit..lol..lucky e teacher very gd..she willing to help us pay some misc stuffs..n lend us e dummy head..so we only needa buy e dummy hair..next week will begin learning how to cut le..so nervous~hehe
when i finished learning..those who not scare one..b my dummy let me try on kk???? hahaha =p
we had everything
12:28 PM
Monday, March 15, 2004

currently slacking...
mood: dreamy, feeling sick, feeling bored, thinking bout many many stuffs...
aniwae was doing some new quizzes..n um hmpm~hehe one of e pic bit ra~~haha dun drool~~ =p
hehe peeps can gif it a try when u r bored!!!!!!take care!!!
You are a human shadow. If a loved one needs you,
you are always right at his or her heels! Your
deep social connection with human beings
produces your qualities of genuine caring and
charisma. However, at times you are naive to
the true nature of your loved ones. Remember
that humans' gift of free will does not always
lead them in wise directions. But your essence
of love and friendship represent the other
precious gifts of humanity. Overall you are a
strikingly valuable and innocent being who has
a lot to give.
What Kind of Shadow Are You? (with gorgeous pics)
brought to you by
Quizilla
You are a normal angel. Innocent and pure. Full of
light and hope. You love to be around others,
and really know how to have a good time. You
enjoy hanging around with mortals. You like ti
sing, which you are great at, and like to have
others near you. People are naturally attracted
to your bubbly personaliy, and love to be
around you. Normal angels are always popular,
and have lots of fans. You are happy go lucky,
with an interesting out look on the world.
Though you have experienced pain, that is all
behind you now. You see the bright side to
things, and are always there to help a person
in need. You are quite pretty, with a childish
air, though you know more than others think.
You are a really friendly person. But can be a tad
selfish at times.
You are bright and full of energy.
Better get my shades!
What Type Of Angel Have You Become?
brought to you by
Quizilla
You have a beautiful soul! These are rare and very
special. One who has a beautiful soul had
beauty inside and out, and are always very
kind. You may be the one who always applies
make-up to look better and achieve certain
standards, but you look just as gorgeous
without makeup. You take pride in yourself
because you know that you are worth better.
Sometimes you preen in front of the mirror for
hours, but youre never too busy to help
someone. Everyone loves you and you love them
back, with a lot of friends, and popularity.
But you didnt get it because of your
clothes-you got it because there seems to be a
radiance around you, a sort of glow, that
attracts people to do better and be better.
What Kind of SOUL do you posses? (For Girls only) Incredible Anime Pictures!
brought to you by
Quizilla
Tarzan!
What movie Do you Belong in?(many different outcomes!)
brought to you by
Quizilla
we had everything
12:51 PM
Sunday, March 14, 2004

hmm..jus eatened 2 pananols..*gosh* my fever is going off n coming again.. =( saddened..
Was on leave for work due to fever on fri..n guess wat?my whole dept was on MC too!n e whole technical area is closed for e day...horrible eh..dunno if its e germs been passed from one another...ZZZZ..
Aniwae yesterdae went to Suntec IT Show 2004 for work..was assigned to HP by challenger..sianz man..been assigned to palmtop section..so diff to sell..cos very ex..was selling e HP Ipac btw..hmm but yesterdae oso no mood work..cos my fever was not well completely..but actually in e morning i was still ok..but due to e continuous flow of crowd n e bumble car effect of e human congestion...i was totally giddy by noon.. =( was feeling sick n bad all over..feel like going home..but thinking tat i jus cant go off like this..i carried on.. but was slacking n lazing around for almost e whole day..e most i did was gif out pamplets..cos im not even in e mood to do ani sales.. bad pay..bad job..haha those working for siemens..got ani gd lobangs muz jio me leh..hahaha.. =p *jus joking*
aniwae was resting e whole day at home today.. =( sick...cant go out..sianz..a bad weekend for me..no $$$...no leisure.. =(
tml still got to work..feel so exhausted.. =( hope will get well after e two little pills down my throat~
*yawns* time for a little rest...think e medicine is taking effect... but nvm...go surf e net for a little while before heading for my bed..hehehe.. take care of ur health peeps.. =)
we had everything
11:11 PM
Thursday, March 11, 2004

pinchable little ger..hehehehe see my pic???so pinchable right??pengs man..i nearly pengs when i saw my own pic..taken by my ownself..haha cos i look really chubby!!!!!!!!!!!!!!hahahaa..
heres e pic

aniwae nothing much happened recently..hmm everydae is work work work..haha mon watched e show "Butterfly Effect" wif wai..a pretty nice show..but only understand e plot when its nearly e end of e show..hehehe..aniwae e show is about a guy who has e ability to move between his kiddy yrs n adult yrs..haha i oso dunno how to say..jus to say he is able to change his destiny..=p hehee..bit scary..bit interesting..bit mystery...dun understand me nvm..go watch e show if u feel bored.. =)
hmm....aniwae im feeling bit feverish...gotta go rest le..take care peeps... =)
we had everything
9:53 PM
Monday, March 08, 2004

Hmm..hehe jus bathed not long ago..now waiting for my hair to dry..hehe aniwae today was an enjoyable day wif my sjab frens..hehe got Jac..ruru..qiqi..yoke kheng..jianjun n me..but jianjian only joined us for dinner...aniwae went for ktv session at sunlight which is located in cuppage plaza..hmm had a very fun time singing..playing n bullshiting wif e girls..hehe...we sing many interesting songs..like cha shao bao..n many songs which we never really sing before..like shin "si le tou yao ai","china dolls "dan yan pu nu sheng" n so on..hehe had a great time singing like a mad chicken..lol..was behaving like a mad woman throughout e day..guess im mad..lol..but am glad tat today was wif them..cos they really make me feel happy..hehe..i long time never laugh like a mad woman le..hehe..thanks girls..i had a great time..hope got chance can come out again~hehehe =) aniwae after e KTV we proceed to marina south for our steamboat session..hehe had alot of food again...*pengs* getting fatter n fatter...Arrrghhh wat can i do???aniwae we had alot of leftover food..so jianjun suggest we play zong ji mi ma in order not to waste those food..hehe..n guess wat?i got once..im e first to guess n im bingo~lol..im really shuey isnt it..but heng today im not e shueyest..heee...cos most of them tio many times too..n not long after..we finished all e food..powerful eh?hehehe..
hmmm after dinner we proceed home le..hehe had alot of fun taking pics wif one another..n a nice catching up session wif all of them on e train~=) a very nice outing..hehe ~
aniwae here r some of e pics we took..heeee =)
time to go le....ciao~ =)
we had everything
12:11 AM
Sunday, March 07, 2004

Woo Woo..hehe long time never go shopping wif bee bee le..n today finally both of us r free..hehe aniwae went for a shopping spree at Orchard again...lol..hmm first we went to takashimaya Perlini..hehe they r having a sale up to 70%!!n today will b e last day le!!so hurry to perlini if u r a fan of Perlini n really wanna grap some nice stuffs..hehe.. =) after tat we take train n proceed to PS..for our dinner..we had our dinner at Thai Express..bee had a glass noodles..n me curry soft shell crab rice..hmmm mine cost $8.90 while bee oso..hehe aniwae it is rather delicious..but bit wierd cos nobody serve us..we got to serve ourselves de..n e food is still like so ex..bit bo hua loh..but if u wish to try..can try loh..hehe =)
next we proceed to e basement n bought a desert which is a yam skin inside got durian de...3 for $2!n its simply so delicious..haha jia lat sia..i ate alot today!!*gosh* fat like shit le still eat so much..haha but nvm..we proceed to go shopping after tat!hoping to walk away all e fats~lol..aniwae were walking aroung meridian(dunno how to spell)n there was like a stupid idoit brush past bee's butts~it was like so delibrately! wonder y so many bian tais nowadays..haha n we were like chanting those "da xiao ren cou" all e way..haha hope his Bir* will get bash or watever shit..lol..
after that we proceed to e newly opened OG~wow..its so nice sia..very high classy..hehe bought a pair of heels which i hav been eyeing long ago there too..hehe $16.90!cheap!? oso went to e closing down OG sale after this..bought 2 bags for mum which is $9 n $9.90 respectively for mama to bring to work..hehe ~ i so nice right?lol
Hmm today i super OG queen sia..bought so many stuffs from there..haha after that then proceed to Heeren..n bee bought 2 shirts there at zoom =) nice nice..but 2 piece already bout $40 ++ le..ex ex..but nvm..can see that she really likes them =) hehe sometimes thinking it through...being happy is more impt than $$$..hehe but not too extravagent la.. =)
hmm we left at about 10++pm ~haha our legs r so numb after a whole day of shopping.haha~ so fun!thanks bee for acc-ing me shopping!!hehe..
*yawns* so tired..tml going KTV at cuppage wif my sjab frens..looking forward to it..cos long time never meet them le..!hehe..gtg le!! ciao~~~~~~~ =)
here r e results Jac intro me de..hmm quite true?hehe i oso dunno leh~ but can try cos doing quizzez to understand oneself is fun! =)
Your Energy is Yellow. You are generous, bright,
and expressive. An excellent communicator, you
keep your audience captivated with your
animated storytelling. Sometimes you talk too
much, but when you learn to listen you will be
sought out for your talents to advise.
The communications field appeals to you as a
profession. Public speaking, writing, radio,
acting or teaching would also be good career
choices.
What color is your energy?
brought to you by
Quizilla
we had everything
12:38 AM
Friday, March 05, 2004

wooo..hehe watched e movie "honey" on wed 3/3/04 wif ru ru..hehe e show is great!!!but not much plot..mainly focusing on hip hop dancing..haha beee im sure u will love it!! =)
aniwae jessica alba was so damn gorgeous in e show..!!! how i wish i can b like her... hahaaa haben sleep already started dreaming..lol..
hmm hehe i found come pics of her ~ here r e pics..enjoy..!hehee..
this is e poster of e show "HONEY"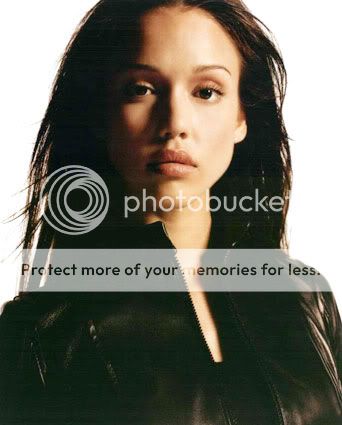 pics of her...heheee........... /me drools...
we had everything
1:54 PM
Wednesday, March 03, 2004

hehe these r some of e silly pics i took yesterday~*silly & idiotic* isnt it?lol
hehe seen e quiz jac did.. n here i am wif my results..hmm angel?haha i doubt so cos im alwaes e devil....~wahahhaaa
aniwae very worried n sad that my frens round me seems like having problems.. =( hope all of them will b fine..may this world b filled wif happiness if i really can b an angel..free all my frens from worries n sadness...
*yawns* slacking now..haha long time never slack le..yesterdae jus finished assembling e 16 pcs..i assembled 11 of them!!so proud of myself..lol..aniwae been sleeping late lately..no mood to sleep..n i dun seem to sleep well..having wierd n chapalang dreams almost everydae disrupting my sleep..*yawns* haha there r jus so little oxygen around me hahaa..*excuses* eh.. =p aniwae..hope to b able to sleep well..cos been late for work these past few weeks..in charge not happy le..haha..sekaly sack me..then?????immediate failure for ITP~*gosh* i cant allow that to happen!!!cos already tahan for two mths le!! =( aniwae later gonna watch e movie "Honey" wif yiru..dunno nice anot leh..heee..
bye peeps..n hope ya all stay happy!!!!!!!!!
here r my quiz results.. =)
Congrats! Your a Pure Angel! Angels, as far as most
of them go, are all compatabile creatures, but
Pure ones simply are symbols of God. Pure
Angels always appear when a child is born, when
a rainbow is seen, or when someone shares their
first kiss. They never grow old, an can appear
in the shape of a naked woman with white, bold
wings. Pure angels are the carriers of god, and
show their love to everyone in the world.
What Kind of ANGEL are you? (For Girls only) This Quiz has amazingly Beautiful Pictures!
brought to you by
Quizilla
You're Element is Light. You are friendly, happy,
social, bubbly, and can brighten up any one's
day. You are very kind and a real people person
because you have several friends (or atleast
should). You're cheery nature makes you lovable
and your stunning looks are sweet and stand
out.
What's Your Element(girls)? (PICTURES)
brought to you by
Quizilla
Seven is sometimes considered as a mystical and
magical number because of the biblical seven
days of creation, and the seven heavenly bodies
of ancient astronomy (i.e. The Sun, Moon,
Mercury, Venus, Mars, Saturn, and Jupiter; they
hadn't seen the others yet). You are
understanding, perceptive and bright, and enjoy
hard work and challenges. You are often
serious, scholarly, and interested in all
things mysterious. Originality and imagination
are more important to you than money and
material possessions. However, you can also be
pessimistic, sarcastic, and insecure.
What does your name and arithmacy say about you? (some simple knowledge of adding is required on your part)
brought to you by
Quizilla
we had everything
11:02 AM
Monday, March 01, 2004

I Am



Which tarot card are you?
Spiritual enlightenment, inner illumination, hidden power. Link between seen and unseen. Balance of positive and negative forces. Receptivity. Unseen guidance.
A young woman sits on a throne holding a scroll labeled "Tora" meaning "law." On her breast is the sign of the meeting of heaven and earth, the Maltese cross. Her crown is the full orb supported by horns, the crown ofthe Mother Goddess Isis, who rules all things changeable, shown by the moon at her feet. Her power, upon which her throne rests, derives from the creative principle of duality, shown by the two pillars of light and darkness. To those who know and love her she dispenses the sweet fruit of the world itself, symbolized by the pomegranites.
we had everything
1:46 AM